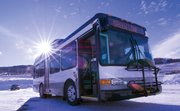 By the numbers
Steamboat Springs Transit ridership
January 2009 214,366
January 2008 212,508
Increase 0.9%
Source: Steamboat Springs Transit
Steamboat Springs — A local cyclist zoomed by City Hall and cheered Thursday as Operations Manager Jonathan Flint showed off the latest addition to Steamboat Springs Transit's fleet.
The bus, a Gillig diesel/electric hybrid, went into service last month and has generated a similar level of excitement at the city's bus barn, Flint said.
"The drivers absolutely love it and fight for it," he said.
With its flashy blue and green graphics, the bus is hard to miss around town. It primarily can be found on the Purple Line, a mountain route with stops including the Gondola Transit Center, Yampa Valley Medical Center, Central Park Plaza, The Porches and The Rockies Condominiums.
"We're trying it on the Purple Line for a couple reasons," Flint said. "One is, it's got some very hilly terrain so we can take advantage of the regenerative braking."
As a single-bus route, Flint said, the Purple Line also makes it easy to compare the bus's performance to others in SST's fleet. Although it will take a year of service to adequately judge the bus's performance, Flint said that so far he "hasn't seen anything to lead him to believe it won't be better," and he plans to recommend that the city purchase only hybrid buses in the future.
"I'm very optimistic this is going to be an excellent vehicle," Flint said. "We anticipate to get a lot of miles out of this vehicle."
Interim City Manager Wendy DuBord said the city purchased the bus with help from the Federal Transit Administration. At $500,000, the bus is about double the price of a traditional diesel-only bus, but the city hopes to recoup the extra cost in fuel and maintenance savings long before its 12-year lifespan is up.
Flint said the bus could stay in service for as long as 20 years. In its first few weeks, the bus has a fuel mileage 30 percent better than the city's traditional diesel buses of the same size.
SST announced Thursday that it set yet another record for passengers in January. Ridership was up just less than 1 percent from January 2008, from 212,508 to 214,366. Ridership records have become commonplace for SST, which set records every month of 2008 except April, when the Steamboat Ski Area closed a week earlier than the year before. Local service was up 13 percent with 1.3 million passengers in 2008. Regional service to Craig was up 14 percent with 37,801 passengers. Ridership was up 20 percent from the summer when gas prices hit their peak, Flint said, but "when fuel prices went down, the ridership stayed high."
For more information on Steamboat Springs Transit, call Flint at 879-3717.
- To reach Brandon Gee, call 871-4210 or e-mail bgee@steamboatpilot.com