Past Event
Wednesday, February 25, 2009, 6 p.m.
,
Not available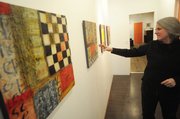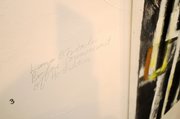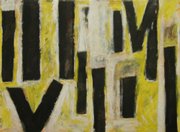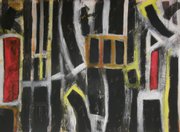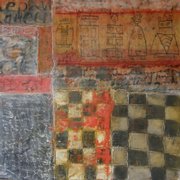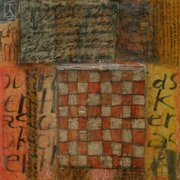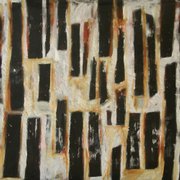 Laura Wait can be obsessive.
In her art, Wait has the tendency to focus on one thing - a letter, a geometric shape, a religious symbol, a hay bale - and include that thing in all of her paintings, encaustics and book sculptures until she moves on to a new idea.
For almost a year, Wait has directed her artistic attention to the game of chess.
In her solo show at K. Saari Gallery, it's possible to see Wait's thought progression in a series of book sculpture, encaustic and painted works. It starts with a series of checkerboards and slowly works its way into chess through the introduction of game pieces. As the idea of a chess game morphs into the idea of battle, the encaustic works and paintings include words related to war. The resulting show, titled "In Opposition," is on display at K. Saari Gallery through March 1.
"I thought, well, chess is a metaphor for war. And it is war - there's strategy. But it's also about life in the different relationships of the pieces," Wait said.
Once she chooses a topic, Wait tends to research the subject extensively. For "In Opposition" - which includes a series of encaustics titled "Middlegame" and a collection of large-scale paintings titled "Ascenders" - she studied the history of chess, chess pieces and images related to them. Gallery owner Kimberly Saari said she was impressed by the depth of Wait's process.
"This isn't something that inspiration just grabbed her; it's well-researched and well-read," Saari said.
The "Ascenders" paintings started with war-themed words painted in large strokes. Wait covered those lines with more layers of paint, calligraphy and etchings to obscure the original image. The works have long titles - "The Knight's Blacksmith Anticipates a Crusade" or "Lunar Obstacles Before Commencement of Hostilities" - to provide a point of entry and a deeper experience for anyone who sees them, Wait said.
"I like to paint, but I like to have something behind it. I like to have something to express other than, 'It's red; it's cool,'" she said.
Most of the words in Wait's paintings end up obscured. The effect is intentional, and it gives Wait a path to keep working with images from chess until another theme catches her interest.
"It's not about the words alone," she said. "It's more about the feeling of it and the imagery in a shape."