Document
Document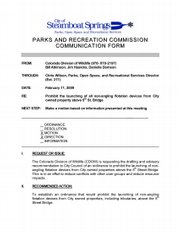 Steamboat Springs — There was little enthusiasm Wednesday night for a Colorado Division of Wildlife proposal to substantially restrict the popular summer activity of floating the Yampa River on inflatable plastic tubes.
The Steamboat Springs Parks and Recreation Commission tabled its consideration of the plan - which would prohibit tubers from entering the river from city property above the Fifth Street Bridge downtown - to a March work session and directed city employees to return with a variety of other options including steps less strict than the DOW proposal.
"Personally, I don't know if we've studied this enough," commission Chairman Curtis Church said. "Limiting might be the answer in the future after additional public input."
The DOW's frustration with tubing reached a head on a busy Fourth of July weekend last summer, when crowds of people overwhelmed the Chuck Lewis Wildlife Area two miles upstream of city limits and ignored wildlife officers who told them a $10 habitat stamp was necessary to park there and that all watercraft launched in the wildlife area must be used for fishing only.
In a slideshow presentation at Wednesday's meeting, DOW aquatic biologist Bill Atkinson showed photographs of tubers frustrating fishermen, a man on a phallic-shaped plastic raft, and litter in the river and on its banks.
"At least this guy was kind enough to put his cigar out before he dropped it on the bank," Atkinson said wryly.
Included in the DOW's list of legal issues and other conflicts resulting from the current situation were trespassing, parking violations, vehicle congestion, the prohibited consumption of alcohol on the river, riparian areas being used as restrooms, litter, stressed fish populations and the loss of fishing opportunities.
"I had a guy throw a beer bottle at me last year because I told him drinking wasn't allowed," Brad Poissant said.
The DOW also claims the city has not observed the tenants of conservation easements it has signed, which Parks, Open Space and Recreational Services Director Chris Wilson denied.
"Close to $1 million : has been spent to acquire easements and implement stream restoration projects to improve the cold water fishery on this stretch of river, resulting in a nationally recognized world-class fishery," the DOW proposal states. "Many traditional uses are not compatible with the level of tubing use now occurring on the river throughout the city, and the segregation of : tubing from other uses will reduce this conflict."
Wilson also disagreed that the number of tubers on the river was increasing, and he worried about how the proposal might simply move the problem elsewhere, such as private and county-owned river access points. Steamboat Springs Police Capt. Joel Rae said the plan would be difficult to enforce.
Commissioners and members of the audience pointed out what they thought were inconsistencies in the DOW proposal. For example, DOW officials relied heavily on the 2003 Yampa River Management Plan in their arguments, yet that plan says tubing should be discouraged above Fetcher Park, which is upstream of the Fifth Street Bridge. DOW Area Wildlife Manager Jim Haskins said it was his idea to move the proposed restriction downstream because of the extensive use of Fetcher Park.
While the proposal is clearly aimed at tubers, its wording pertains to "non-angling flotation devices," and some feared it could be construed to restrict additional users including kayakers. Channing Reynolds guessed some resourceful tubers might simply purchase fishing licenses and bring poles along for their floats.
Also, the proposal speaks to "detrimental impacts to the health of the river," but a report on the river released in December found that "city management of recreational activities are not affecting water quality in the Yampa River."
Parks and Recreation Commission member Dan Brabec said a more appropriate first step would be to follow the river management plan's recommendation to discourage tubing above Fetcher Park.
"I still think that's a very strong position that we haven't taken," he said. "Right now, we are allowing it with condescension, but right now, we aren't doing anything to actively discourage it."
Backdoor Sports owner Peter Van De Carr said education, not additional regulation, was the solution to the problem.
"Respect the river," he said. "If we drive that idea home, I think a lot of these issues will be resolved."