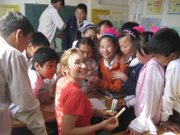 If you go
What: Presentation by students and faculty of The Lowell Whiteman School
When: 7 p.m. today
Where: Steamboat Springs Community Center
Cost: Free
Steamboat Springs — Traveling through the Mongolian steppe taught Seann Stoner, a junior at The Lowell Whiteman School, about the culture and beliefs of one of the last nomadic groups of people in the world. It also taught him about the very real danger of wolves.
"When we first went there, the translator dropped us off and said, 'If you have to go to the bathroom at night, wake (the host family) up. You don't want to get eaten by the wolves,'" Stoner said. "I've never had to worry about wolves before."
Students at The Lowell Whiteman School will take community members on a vicarious trip to Mongolia - and other countries students visited last year - as part of a presentation on the school's travels at 7 p.m. today at the Steamboat Springs Community Center.
Last year, the school sent 55 students - about half the student body - to Senegal, Swaziland, Mongolia, Argentina and India.
Selecting where to send the students for a month is a tricky task for Director of Experiential Education Margi Missling-Root.
This year, trips will go to Mongolia, Vietnam, Cambodia, Chile, Peru, Honduras and Guatemala in April.
One group this year was originally destined for southern India, but after the bombings in Mumbai, Missling-Root switched the destination to Vietnam and Cambodia.
"One of my roles in all this is to pay attention to the politics, the disease, the elections going on around the world and try to make sure that we are choosing destinations that the kids can have a really valuable experience : but there aren't political things going on that would put us in a bad situation," she said.
The school began sending students on trips in 1958 when the school packed up and moved into a Mexican hotel for a month. Missling-Root said she wants to continue the tradition because it provides a kind of understanding students would not be able to learn any other way.
"If you get to know the people, if you get to know the country and what they cherish, it can really help to increase peace and understanding," she said.
Stoner, who has been at the school for two years, signed up to travel to Peru this year. He said his decision to attend the school was highly influenced by the Foreign Travel Program.
"I love travel. I've traveled quite a bit before I came to The Lowell Whiteman School, and I've found it's something important for my development," he said.
Students and staff will present pictures, stories and artifacts from their travels during tonight's presentation.