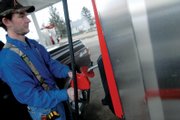 Local fuel gauge
Regular unleaded and diesel prices across Craig as of Wednesday afternoon.
Numbers correspond to numbers on the photo, above.
1. Loaf 'N Jug, 2441 W. Victory Way
• Unleaded: $1.93
• Diesel: $2.49
2. Kum & Go, 1302 W. Victory Way
• Unleaded: $1.93
• Diesel: $2.49
3. Trevco, 702 Industrial Ave.
• Unleaded: $1.79
• Diesel: $2.49
4. Sinclair, 666 W. First St.
• Unleaded: $1.89
• Diesel: $2.539
5. Kum & Go, 895 Yampa Ave.
• Unleaded: $1.93
• Diesel: $2.49
6. Conoco, 140 W. Victory Way
• Unleaded: $1.96
• Diesel: $2.49
7. Petrowest, 301 School Road
• Unleaded: $1.97
• Diesel: $2.45
8. Kum & Go, 700 E. Victory Way
• Unleaded: $1.93
• Diesel: $2.49
9. Gofer Foods (Conoco),
923 E. Victory Way
• Unleaded: $1.93
• Diesel: $2.49
It turns out oil companies aren't the only people who control gas prices, AAA Colorado spokesman Wave Dreher said.
Although oil prices remain low at about $40 a barrel, American gas prices continue to increase, and drivers can expect to see more of the same in the immediate future, she said.
"I think we're going to see exactly what we've seen the last few weeks," Dreher said. "I don't think we're going to see any dramatic increases like we did last year, with prices shooting up 20 cents in one week, but we will see prices go up."
Gas refineries will make sure of it, she added.
By slowing their output, refineries can reduce the available supply and naturally increase prices.
Essentially, they're withholding gas to control the market, Dreher said.
"They're saying it's for maintenance and operating reasons, but make of that what you will, I guess," she said. "I think the refineries are just taking advantage of the situation to keep gas prices where they are."
Locally, gas prices remain higher than the state average, but most are less than the national average for the first time in recent memory.
Prices in Craig fell throughout the 2008 holiday season, down to about $1.76 per gallon of regular unleaded until the past few weeks.
Prices at the pump have increased about 20 cents a gallon at many stations recently, but similar price hikes happened across the country.
As of Wednesday afternoon, the price of a gallon of regular unleaded gas in Craig was $1.926, compared to the state average of $1.835 and the national average of $1.94.
Colorado ranks 12th in the country for cheapest gas, with the lowest being Wyoming, which boasts an average regular unleaded gas price of $1.663 per gallon.
Eleven states have average gas prices of more than $2 a gallon, according to AAA, which the group predicts soon will be the norm.
Oil companies also are taking a cue from gas distributors, said Geoff Sundstrom, AAA public relations director.
OPEC, the Organization of Petroleum Exporting Countries, is in the middle of limiting its own production, he said. The international oil cartel has cut production by 4.2 million barrels a day since September 2008 and could agree to more cuts at its next meeting March 15.
Colorado residents don't need to worry about that today, though, said Dreher, mostly because the decision by domestic refineries to cut their production gives America a stalwart reserve supply.
"What we have in reserve is fairly high," she said. "I'm sure (OPEC's decision) will have an impact in the future, but not soon."