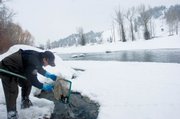 Steamboat Springs — The town stretch of the Yampa River became home to 15,000 new residents Wednesday, when personnel from the Colorado Division of Wildlife stocked the river with hybrid Tasmanian rainbow trout.
The trout that were stocked in five locations along the river were spawned in late April and hatched in late May. They range in size from 3.5 to 7 inches.
The DOW typically stocks the river with trout in summer and fall. Steamboat-based fisheries biologist Billy Atkinson hopes giving the young trout a head start in winter, while larger predatory fish are relatively dormant, will increase their survival rate.
"Northern pike and larger trout aren't as active during winter when the water is cold," Atkinson said. "The trout could grow an inch or maybe a little more by summer."
That extra growth could make them less vulnerable to pike shorter than 15 inches in length, he added.
Atkinson has been using the Yampa near Steamboat as a living laboratory to test the suitability of different strains of rainbow trout. The fish represent varying combinations of different strains of rainbows. Atkinson and DOW personnel at trout hatcheries are pairing a domesticated strain of rainbow that is resistant to the parasite-borne affliction known as whirling disease, with other strains that have the attributes and behavioral traits of wild trout.
This winter's trout were a mix of the whirling-disease-resistant strain and Tasmanian rainbows.
"These will make great river fish," DOW Technician Brad Neuschwanger said. "The Yampa has a lot of good feed in it."
Neuschwanger trucked the trout over the Continental Divide from the Bellvue-Watson Fish Hatchery outside Fort Collins.
Atkinson will track the progress of the new arrivals during the next few years as he goes through the annual ritual of shocking the river - using electroshock treatments to stun fish without harming them - to take census data.
By summer, when he plans to stock an additional 30,000 small trout in the Yampa, he will have turned his attention to a hybrid trout that incorporates Colorado River rainbows.
Atkinson launched a special rainbow project in Soda Creek last year that he hopes will generate a self-sustaining population. The biologist has long observed rainbow trout attempting to spawn up Soda Creek through the heart of Old Town. However, their passage was blocked by a concrete ramp beneath the old Yahmonite Bridge, which they couldn't leap.
When the city recently rebuilt the bridge, he persuaded the contractor to remove the concrete ramp and replace it with a more fish-friendly structure.
He has subsequently stocked the creek with several thousand rainbows that will imprint on it and hopefully always return there to spawn.
"I'd like to establish a self-sustaining population of rainbow trout in Soda Creek," Atkinson said.