Document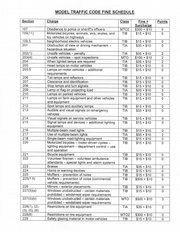 Steamboat Springs — The Routt County Board of Commissioners gave preliminary approval Tuesday to adopting the Colorado Department of Transportation's Model Traffic Code, which not only would raise fines for local traffic offenses, but also send some of that money back to Routt County's general fund instead of to the state.
The potential financial benefit to the county from the proposed change has not been calculated, Routt County Sheriff Gary Wall said. Revenue from tickets issued on state highways still would be paid to the state, but Routt County would get to keep any fines paid for its other public roads, Wall said.
Under the Model Traffic Code, some fines will be increased, and all fines will be subject to a $10 victim assistance surcharge. Speeding violations also will be subject to a $12 surcharge for the Colorado Traumatic Brain Injury Trust Fund.
For example, the cost of a ticket for driving 10 to 19 miles per hour more than the speed limit in Routt County would increase 44 percent, from $50 to $72. Other violations, such as minimum speed regulation, would triple from $15 to $45.
CDOT's Model Traffic Code is meant to standardize traffic laws and penalties across municipalities and is tied directly to the Colorado Revised Statutes. Although the fines and language in the state statute are always subject to change, with the adoption of the Model Traffic Code, the county would not have to revisit the issue, Commissioner Diane Mitsch Bush said.
"The board will tie its regulations to the state statute," Assistant County Attorney Joanne Eldridge said.
The county is permitted by law to make its own traffic regulations, and it adopted its own ordinances in 1993, Eldridge said. The last updates to Routt County's traffic ordinances and fees took place in 2004, she said.
The county will deviate from the Model Traffic Code in the areas of chain law and impounds, according to the proposed ordinance. The modifications add an existing county law establishing penalties for violating chain law and allowing the immobilizing or impounding of vehicles under circumstances, including unpaid tickets or snow removal obstruction.
A second hearing for the Model Traffic Code ordinance is scheduled for March 10. If approved, the new fines could go into effect as early as mid-April, Eldridge said.