Document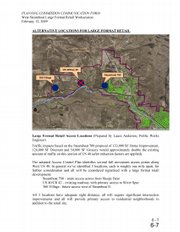 If you go
What: Steamboat Springs Planning Commission meeting
When: 6 p.m. today
Where: Centennial Hall, 124 10th St.
Call: Department of Planning and Community Development at 871-8258 for more information
By the numbers
Large-format retail survey
Preferred location: Responses
West U.S. 40 corridor: 62 percent
East U.S. 40 corridor: 24 percent
Other: 15 percent
Not in Steamboat: 11 percent
Downtown: 1 percent
Source: Steamboat Springs Economic Development Plan, November 2008
Steamboat Springs — The conversation to decide whether a big box store will spring up next to Steamboat II - or on both sides of it - begins at today's meeting of the Steamboat Springs Planning Commission.
While studies show large-format retail in western Steamboat Springs would be a boon to the local economy and government finances, whether it makes sense from community character and landscape standpoints is another matter. Two major developments vying for annexation - Steamboat 700 and 360 Village - have submitted dual land-use plans, with and without big box pads included, while they wait for the city to decide what it wants. City officials have said the question must be answered before a more detailed review of the proposed annexations can continue.
Planning Services Manager John Eastman said he is surprised that more people haven't weighed in on the discussion in advance of tonight's meeting.
"We'd really like to have public engagement about this," he said.
The city planning staff's recommendation about whether big box retail should be included in western Steamboat is a "qualified yes," according to a staff report. The report states that impacts to local businesses would have to be mitigated, mixed-use urban design standards would have to be employed and "such a plan would likely require public/private partnerships to provide financing for a parking structure." The staff report identifies Steamboat 700, rather than 360 Village, as the preferred site for large-format retail in western Steamboat because the site "allows the best opportunity to mitigate visual impact and provide transit service at the most reasonable cost. This location has less potential impact on existing residences."
Citing Target and Lowe's as two possible examples, the staff report estimates that a large-format retail store would increase the city's annual sales tax receipts by $1.1 million.
"No doubt about it, big box generates a way bigger fiscal positive at build-out," Jean Townsend, an economist and public finance specialist hired by Steamboat 700, said last month.
If city officials decide to go with Steamboat 700's large-format retail alternative, the total number of housing units in the development would be reduced from 2,044 to 1,818. The number of affordable or attainable housing units - the No. 1 priority of the West of Steamboat Springs Area Plan - would be reduced from 511 to 455. Without big box, a transportation study conducted on behalf of Steamboat 700 predicts about 17,600 additional automobile trips a day accessing roads around the development at completion. With big box, that number jumps to 21,900.
Also Thursday, planning commissioners will review a proposed community housing plan for the planned Thunderhead development. The plan calls for $2.6 million in affordable housing fees in lieu of building affordable units. The Steamboat Highlands development will come before commissioners with a request for denser zoning at the 1.4-acre site on Burgess Creek Road. Commissioners also will review a final development plan for a new 10,200-square-foot Millennium Bank in Wildhorse Marketplace.