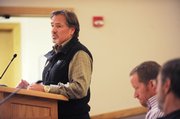 Steamboat Springs — Sweeping changes appear to be in store for the city of Steamboat Springs' affordable housing ordinance.
In a 4-3 vote, the Steamboat Springs City Council decided to move forward with an ordinance that would suspend linkage, an impact fee that requires developers to mitigate - with units or a fee - a percentage of the work force housing their developments are thought to create.
Also Tuesday, and in another 4-3 vote, council endorsed a plan suggested by a group of developers and local business leaders that would replace the city's 21-page Community Housing Ordinance with three options for compliance: an affordable housing impact fee set at a percentage of the sales or market value of new developments, a real estate transfer tax and a third, catch-all option that would allow developers to make an alternative suggestion to be approved or denied by City Council.
The plan would eliminate inclusionary zoning, which along with linkage is one of two key components of the city's affordable housing ordinance. Inclusionary zoning, enacted in 2006, requires developers to include affordable units in their housing developments at a rate of 15 percent.
Supporters love the plan's simplicity. Opponents said the move was hasty and uninformed.
In both decisions, council members Loui Antonucci, Cari Heramcinski, Jon Quinn and Scott Myller supported the motions. Council members Steve Ivancie, Meg Bentley and Walter Magill opposed them.
Officially, no action was taken at Tuesday's work session meeting, which drew a large and opinionated crowd to Centennial Hall. With council's direction, however, both plans will return in the form of ordinances to be considered officially. Both would be subject to two readings.
In supporting the linkage suspension, Hermacinski said that basing a fee on the work force housing demand it creates is akin to taxing developers for creating jobs.
"I think the first part of affordability is having a job," she said. "I think penalizing the creation of jobs is just a bad policy."
Ivancie said the move was too drastic of a step and that linkage, enacted in 2007, had not been given a chance to work.
Steve Lewis, who participated in the discussion as a panel member representing the Community Alliance of the Yampa Valley, said Hermacinski's argument only works in the short term. In the long term, Lewis said, the economic benefit of eliminating linkage would be outweighed by a lack of work force housing.
"We'll be losing marginal and start-up businesses because we have so few employees," he said.
The second vote was on a motion by Quinn. The suggested plan was based largely on a letter from the group of developers and business leaders calling itself the Concerned Citizens for Affordable Housing. In the letter, the group laid out its preferred plan for affordable housing - and later went on to threaten legal action if the city does not substantially change its ordinance.
Ivancie recoiled at the proposal and failed in an attempt to table the vote, with only Bentley joining him in support of that step.
"We're kind of doing this on the fly," Ivancie said. "I personally need more information."
Hermacinski disagreed and said council has been discussing the issue since taking office in November 2007. She said the debate of a concrete proposal in the form of an ordinance would help advance the discussion.