By the numbers
$0 - Payment in lieu collected under the city's commercial linkage program
8 - Colorado communities with inclusionary zoning programs only
10 - Colorado communities with inclusionary zoning and linkage programs
16 - Number of units that have been built and obtained a certificate of occupancy under the city's Community Housing Ordinance
$53,000 - 2008 area median income for a Routt County household of one
$324,327 - Payment in lieu collected under the city's residential linkage program
$328,176 - Payment in lieu collected under the city's inclusionary zoning program
Source: City of Steamboat Springs
Document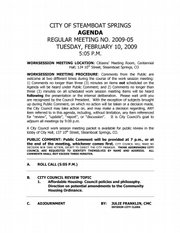 Past Event
Tuesday, February 1, 2011, 5 p.m.
Centennial Hall, 124 10th St., Steamboat Springs
Not available
Affordable housing will be the only topic for discussion at tonight's Steamboat Springs City Council meeting, when council members are expected to weigh in on suspending a substantial housing requirement.
City Attorney Tony Lettunich has drafted an ordinance that would suspend linkage, an impact fee that requires developers to mitigate - with units or a fee - a percentage of the work force housing their developments are thought to create.
Linkage is one of two main policies that make up the city's affordable housing ordinance. Enacted in 2006, inclusionary zoning requires developers to include affordable units in their housing developments. Linkage was added in 2007.
Today's meeting will pick up where a similar meeting left off in January. Joining council members in the discussion will be a panel made up of representatives of the development community, the Yampa Valley Housing Authority and the Community Alliance of the Yampa Valley. Many in the development community have chalked up the city's housing policies as a failure and are threatening legal action while demanding major revisions. Developers say they are finding it difficult, if not impossible, to sell units that have been built or are being built under the ordinance.
Others are skeptical of the developers' claims and argue it is the economy, not the ordinance, that is affecting real estate transactions of affordable and market-rate units.
The inclusionary zoning "and linkage ordinances have the potential to create homes that studies have shown are needed," Steamboat resident Diane Brower wrote in an e-mail to City Council. "They have hardly been given enough time to prove their worth. I'm concerned that developers who claim that there is no demand for these units have a financial interest in there being no demand for them."
In addition to linkage suspension, city officials will seek direction from the council on what, if any, changes it wants to make to the Community Housing Ordinance and how to distribute payments the city receives from developers through the ordinance.
"I think, at a minimum, that City Council is in agreement with staff to make some changes," said Nancy Engelken, community housing coordinator for the city of Steamboat Springs. "And one of the discussions they're going to have is to repeal the whole thing."
Engelken supports a number of changes such as calculating inclusionary zoning requirements as a percentage of overall square footage rather than units, waiving building permit fees for affordable units, creating density bonuses for inclusionary zoning units built on site, and allowing employers to purchase deed-restricted units for rent to income-qualified employees. Engelken will not make a recommendation on the ordinance to suspend linkage.
"It's a public policy decision for City Council," she said.
Engelken will submit three options for the distribution of payment-in-lieu money collected under the affordable housing ordinance: distribute it through a city-administered request for proposals process, give it to the Yampa Valley Housing Authority or use it for a down-payment assistance program. Giving the money to YVHA - which is desperate for a dedicated funding source - creates auditing difficulties for the city and, because the Housing Authority has a larger jurisdiction, raises the issue of whether city fees could be used in the development of affordable housing outside city limits.
"This is an ordinance of the city of Steamboat Springs, and fees are paid to the city of Steamboat Springs," interim City Manager Wendy DuBord said. "We have to audit and account for them."
Lettunich also is expected to provide more information about the legality of a real estate transfer tax, the development community's preferred alternative to inclusionary zoning and linkage.
Great interest
Last month's meeting on the subject drew a large crowd to Centennial Hall and several comments from the public. In advance of today's meeting, council members already have received 16 pages of written public comments.
"I am disgusted to hear that the developers are ... trying to get out of affordable housing, and I'm disappointed that more potential buyers are not speaking out in outrage," Steamboat resident Jody Anagnos said. "Every year I watch my friends leave the valley because they are sick of fighting so hard to make ends meet. ... Please continue to work on affordable housing. We need it to keep our sense of community and keep Steamboat special. I agree that what we're currently doing is not working, but don't throw it all away."
In her e-mail, Kathleen Guler wrote that the ordinance doesn't work and asked why the city hasn't done more to encourage the construction apartment buildings. Ray Uhl, a Dream Island Plaza resident who also has addressed council in person twice in recent weeks, wrote that the city should put protections in place for mobile-home-park residents.
"If there was something in writing to protect our units, it would definitely open up a whole new affordable housing market," Uhl wrote. "The 'eyesore' would definitely change into nice affordable communities. ... As it stands now, it is only a matter of time until the trailers disappear. Going with them the people who work two or three jobs to live and play here."