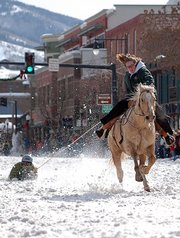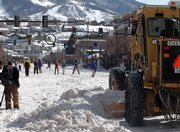 Results from Sunday's street events
96th annual Winter Carnival
50-Yard Obstacle Course, ages 5 to 7
1. Kyle Kagan
2. Murphy Bohlmann
3. Lucas Rowse
50-Yard Obstacle Course, ages 8 to 10
1. Wilder Gray
2. Sammi Jo Stabile
3. Cody Vargas
50-Yard Obstacle Course, ages 11 to 14
1. Chris Heaberlin
2. Grant Andrews
3. Mariah Hoots
25-Yard Dog Dash, riders younger than 5 years old
1. Oliver and Buddy VanDeCarr
2. Joey and Kali Rezzonico
3. K. Corina and Ranger Creamer
25-Yard Dad Dash
1. Scott and Andrew Kempers
2. Keri and Margo Shea
3. Dave and Taylor Macormack
Ring and Spear, ages 6 to 9
1. Gabe Aigner
2. Kristina Steinberg
3. Matthew Kempers
Street Slalom, ages 6 to 9
1. Nolan Connell
2. Noel Keefe
3. Cody Winters
Donkey Jump, ages 10 to 14
1. Jesse Pugh
2. Finn O'Connell
3. Billy Winters
Shovel Race, 18 and older
1. Scott Kempers
2. Matt Carter
3. Adam Beaupre
Steamboat Springs — The Steamboat Springs Ski Band didn't even need their brand-new jackets and hats for the parade during the 96th annual Winter Carnival on Sunday morning.
With temperatures reaching into the 40s, band director Jim Knapp said he couldn't have been happier.
"When I woke up this morning to see it was above zero (degrees), and even above 20, it was perfect," he said. "This is what is supposed to be."
The band was prepared for the worst in new ski jackets from BAP and new cowboy hats from F.M. Light & Sons and Stetson. The band didn't even have to use the plastic mouthpieces they have for days when the cold weather would make wet lips stick to the horns.
Junior Paula Ninger, clarinetist, said the warm weather helped stave off many of the problems she faces in colder weather. Her reeds didn't freeze and her instrument didn't lock up as she skied down Lincoln Avenue playing tunes by The Beatles.
The band's old uniforms, between 30 and 35 years old, aren't going to the trash piles immediately, though. Knapp said he plans to keep them around for a while and take several of the old patches from the outfits to put on the new jackets.
The ski band led the parade down Lincoln Avenue at the conclusion of the street events. They were followed by several contingents of enthusiastic locals, including the Lighted Ladies, clad mostly in fur and carrying signs declaring that the "Lighted Man Rocks."
Races
Sandy Evans Hall, executive vice president of the Steamboat Springs Chamber Resort Association, estimated that 2,000 people lined Lincoln Avenue to watch the Winter Carnival events, which began at 9 a.m.
Dogs and dads took turns pulling youngsters across 25 yards of imported snow near Seventh Street, while young racers slid through slaloms and over jumps as they were pulled behind horses.
Scott Kempers took the prize for the shovel race, holding on as he was dragged down the street. Jesse Pugh, who skis with the Steamboat Springs Winter Sports Club, took first place in the donkey jump - an event that has a skier pulled behind a horse over a ramp on Lincoln Avenue. More than 4 tons of snow were trucked onto the street and groomed for the carnival.