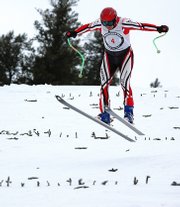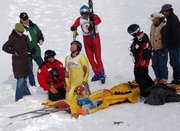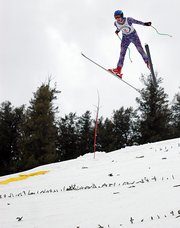 Results
First round Second round
1. Rolf Wilson 108 meters 107
2. Erik Wilson 109 102.5
3. Pat Arnone 102 100
4. Lynn Wenzel 101 94
5. Brent Wilson 99 93
6. Jordan Goldsmith 96 92.5
7. Mike Wogrin 90 90.5
8. Ryan McConnell 91.5 88
9. Rob Davis 89.5 89.5
10. Darin Gamba 79 74
11. Andy Atha 75 73
Steamboat Springs — It was either a clever and underhanded dig or simple forgetfulness.
"I can't remember how many times in a row I've won," Montana-based gelande jumper Rolf Wilson said Sunday afternoon after the Pro Alpine Flying Championships. "I guess I'll have to go home and check my trophies."
That might take awhile. Wilson won last year at the Howelsen Hill gelande jumping event and had a series of three wins in Steamboat Springs from 2003 to 2005.
That sense of consistency guided him to the 2009 crown.
He didn't log the best jump of the day. That title went to his brother, Erik Wilson. Rolf Wilson nailed two jumps of 107 meters or longer, however, and that added up to more than enough to win.
Each contestant got four attempts, split into two rounds. They had to keep their best mark from each round, and those were combined to determine the winner.
Gelande jumping is like Nordic ski jumping, only with Alpine ski gear instead of regular jumping equipment.
"I'm happy to win here again. This is always a great place to compete," said Rolf Wilson, who collected the largest portion of $3,000 worth of prizes and money handed out. "I got a couple hundred bucks - enough to pay for gas. But it's not about the money. It never has been."
He was happy but explained with a laugh that it was hard to see his brother outdo him, even if it was just for one jump.
Rolf Wilson had his best jump of the day on his first of four runs, soaring 108 meters - 3.5 meters shy of the world record he set in Steamboat four years ago.
Erik Wilson, meanwhile, took full advantage of a sustained gust of wind that swept across the Howelsen Hill jumping complex while competitors were making their second attempts.
He flew to 109 meters.
"As soon as I got in the air, I got a little bit of a poof of wind under me," Erik Wilson said. "It felt like it raised me 10 feet. It was unbelievable. It was great. It was probably the best jump I've ever had here."
That same wind helped lift Steamboat jumper Pat Arnone to a third-place finish. His two jumps combined to 202 meters, which was enough to stay just ahead of Lynn Wenzel, of Boulder.
"The goal I keep in the back of my mind is to get over 100 meters every time I jump," Arnone said. "I got there three of my four jumps, so that's pretty good."
Steamboat Springs High School senior Ryan McConnell managed an eighth-place finish in the 12-jumper field despite missing Friday's training and Saturday's qualifying round. He rushed back to Steamboat from an FIS slalom and grand slalom race in Winter Park for a chance to jump Sunday.
His best jump was 91.5 meters.
"I liked my first one. My other three were good, but not as good," said McConnell, already in his fourth year jumping. "My first jump is the furthest I've ever gone."
The only other Steamboat jumper, Greg Rudolph, was one of two competitors to go down with injuries. His left ski popped off on his first landing. He managed to navigate the rest of the way down the steep slope on one ski before he fell and skidded to a stop near the base of Howelsen's largest jumping hill.
He walked away from the accident but withdrew from the competition.
Brent Wilson, a brother to Rolf and Erik Wilson, walked away from a scarier crash late in the competition. He lost his balance in the air as he prepared to land, then skidded down the hill, his skis still clipped to his feet in front of him. Though he sustained a serious knee injury, he declined to be pulled away on the medical toboggan available and instead limped away from the crash site.
- To reach Joel Reichenberger, call 871-4253 or e-mail jreichenberger@steamboatpilot.com