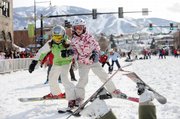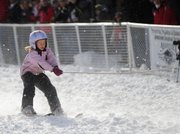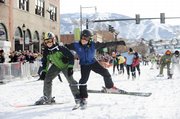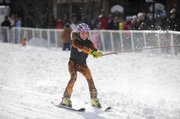 Saturday street event results
96th annual Winter Carnival
Street Slalom, ages 10 to 14
1. Malory Hoots
2. Kayla Voeltzel
3. Jonathan Lockhart
Skijoring, ages 6 to 9
1. Annika Malacinski
2. Kristina Steinberg
3. Casey Buchanan
Skijoring, ages 10 to 14
1. Natalie Bohlmann
2. Jasper Good, Malory Hoots (tie)
3. Jenna Kramer
Ring and Box, ages 6 to 9
1. Kyle Kagry
2. Brandon Temple
3. Megan McCurdy
Donkey Jump, ages 6 to 9
1. Cameron Colombo
2. Noel Keefe
3. Anders Brockway
Shovel Race, ages 18 and older
1. Craig Keefe
2. Andy Picking
3. Cody Flower
50-Yard Three-Legged Race, ages 5 to 8
1. Quinn Keefe and Alexa Paoli
2. Lily Starkey and Brooks Birkebine
3. Mac Moody and Genevieve Gray
75-Yard Three-Legged Race, ages 9 to 11
1. Grant Andrews and Finn O'Connell
2. Anna Burkholder and Samantha Terranova
3. Natalie Bohlmann and Jordy Floyd
25-Yard Dash, ages 3 to 5
1. Jack Allering
2. Sage Zetson
3. Soren Brockway
50-Yard Dash, ages 6 to 8
1. Quinn Connell
2. Bennett Gamber
3. Mac Moody
75-Yard Dash, ages 9 to 11
1. Grant Andrews
2. Wilder Gray
3. Tammy Katthian
Steamboat Springs — When Heather Wilhelm participated in Winter Carnival street events on skis, her childhood favorite was skijoring - being pulled down Lincoln Avenue by a horse at top speed.
"Just as fast as you could go," she said Saturday morning. "I never did the donkey jump; I was too scared."
Too old for the children's events, Heather now participates on horseback with members of her family, and other Routt County ranchers who volunteer their time year after year. Despite reversing her role in the horse events, skijoring remains her favorite for reasons of pure speed, she said.
"Anything we can go fast on, it's like us being a kid again," Heather's father, Lynn Wilhelm, said.
The children racing for ribbons are not the only competitors during street events - the horseback riders' need for speed has become a good-natured contest of its own.
"The only speed requested is 'fast,' " Heather said. "It's kind of a competition between the horse riders."
Dozens of youngsters took their turns at the street events Saturday morning, being cheered on by hundreds of spectators through contests including the ring and box, the three-legged ski race and the donkey jump.
More than a few took spills, pairs of skis occasionally flying off in a tumble into the 400 tons of thick, heavy snow piled on Lincoln Avenue for the occasion.
Skijoring participants Meg O'Connell and Tatum Sear took the towrope sporting a unicorn horn and a tail, which gained them extra style points, Tatum, 12, said.
"Last night we were really excited for today, to just dress up crazy," Tatum said.
"It's good luck," Meg, 13, added.
Meg said skijoring always has been her favorite street event because you just have to hold on and enjoy the ride.
"You don't have to focus on anything - getting a ring in a box, going off a jump - you just go fast," Meg said, snacking on post-race milkshakes and french fries on the sidewalk.
The girls also costumed up Friday, where they got a headstart celebrating Winter Carnival at Steamboat Ski Area.
"Yesterday, we went on the mountain just celebrating Winter Carnival. It's my favorite time of year, even more than Christmas," Meg said.