Read more about John Fetcher
Steamboat Springs icon John Fetcher has been in many newspaper and magazine stories. Here are links to some of the highlights.
Folklore forecasts
Local ranchers predict winter weather in wild ways
"I get my winter forecast from discussing the matter with the beavers that infest our ranch," John Fetcher said. "We have lot of beavers, and if they build lots of dams, we figure it's going to be a hard winter."
Read the story here.
A battle for the bees
In 2005, John Fetcher's five beehives produced 14 gallons of honey. In 2007, they produced zero.
Read the story here.
Fetcher, 96, to semi-retire
John Fetcher has decided that at age 96, it might be time to semi-retire from his post as general manager of the Upper Yampa Water Conservancy District.
Read the story here.
John F. Russell: Senior tennis players break new ground, age gracefully
John Fetcher, 96, only can play tennis on Mondays and Fridays because he's too busy working. Maybe he'll play five days a week when he retires.
Read the story here.
Looking back: The history of a ski town
Seven men, some of them dreamers, gathered nearly 50 years ago at the base of Storm Mountain. They assembled to have their picture taken on the day Jim Temple broke ground on a new ski area for Steamboat Springs. Two of the men stood on a squat bulldozer. The remaining five stood proudly in front of it.
Read the story here.
Tom Ross: Reservations are hard to come by at Stagecoach Dam Cafe
My pal John Fetcher invited me out to lunch Friday at a little out-of-the-way spot built into the base of the Stagecoach Dam. He eats lunch there every Friday.
Read the story here.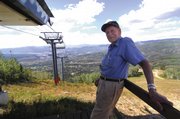 Steamboat Springs — Ski pioneer, dam builder and rancher John Fetcher died Friday at 97. Fetcher's impacts on the Yampa Valley are immeasurable, particularly in the fields of skiing, water storage and ranching. If you have a story to share about Fetcher, e-mail it to mlawrence@steamboatpilot.com or call 970-871-4233.