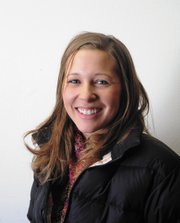 Age: 26
Occupation: Community Development Manager, Steamboat Springs Chamber Resort Association
Place of birth: Westminster
Q. When did you move to Routt County, and what brought you here?
A. I moved here on Feb. 18, 2008, because I was sick of the Wisconsin winter (aka no mountains). Lived in the dorms at CMC for my first three months here.
Q. What's the biggest risk you've taken recently?
A. Giving up soda. Yikes!
Q. Describe your morning routine.
A. Wake up, take Karl the golden retriever out to do his business, shower, get dressed, watch the beginning of the "Today" show and head out the door to work with coffee in hand.
Q. Has a book ever changed your life? What was it and why?
A. Yes, of course! Most recently, "I, Rigoberta Menchu" inspired my graduate thesis work.
Q. What's the best piece of advice you've ever been given?
A. Never approach a bull from the front, a horse from the rear or a fool from any direction. It's a cowboy saying.
Q. What three things would you want people to know about you?
A. 1). I'm pretty shy until you get to know me. 2). I am passionate about music. 3). I am terrified of the ocean.
Q. What did you want to be when you grew up?
A. I wanted to be a doctor and a ballerina (at the same time).
Q. Do you collect anything?
A. Socks from places I visit or events I attend.
Q. What was your first job?
A. Shoe sales diva at Journeys in the Westminster mall.
Q. Who is your favorite superhero? Why?
A. She-Ra. Duh - she's the Princess of Power.
Q. Do you have a tattoo? If so, what of and why did you choose it?
A. No, but I want one of a tree on my back.
Favorites
Book: "Caracol Beach" by Eliseo Alberto
Song: "Piece of Me" by Brian Keane
Color: Sage
Food: Sushi
Sport to watch: Football (Denver Broncos or Texas Longhorns)