If you go
When: 1 p.m. today
Where: Howelsen Hill ski jumps
What: Gelande jumping is ski jumping with Alpine gear instead of the traditional Nordic skis and equipment. The current world record is 111.5 meters, or 366 feet. It was set in Steamboat four years ago, and jumpers will try to eclipse it today.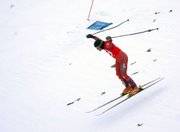 Steamboat Springs — Bruce Stott couldn't even remember if he did anything wrong Friday, let alone what that mistake might have been.
But the evidence that something had gone wrong was there in the form of a neck brace a day later.
"It was my first jump of the year off the big hill," the Frisco-based gelande jumper said. "The jump felt good at the top. I guess I got a little twisted and a gust of wind came and threw my skis sideways.
"Something weird must have happened. I don't remember anything until getting out of the ambulance."
Stott broke his neck, but he survived with a crack to the C-5 vertebrae and should suffer no long-term problems. He was well enough to return to Howelsen Hill on Saturday to cheer on his friends and rivals in the first day of jumping at the annual Pro Alpine Ski Flying competition on Howelsen's K114 hill.
"Oh, I'll jump again," he said, confidently. "This is just one of those things that happen to people."
He was far from alone at Howelsen Hill with that attitude.
"It's just fun," Stott said. "When you get it right, it's one of the best feelings there is."
Filing a flight plan
Gelande is like Nordic jumping, except without all the things that make Nordic jumping easier.
Gone are the super-wide, super-tall, free-heeled skis Nordic jumpers strap on. In their place is a regular set of Alpine skis. Different jumpers described the feeling of a good jump in different ways.
"It's as close as you can get to flying without an engine," Stott said.
Steamboat jumper Tim Magill missed this year's competition with a blown knee, but he said he still got nervous butterflies watching other jumpers as he called the action from the announcer's stand.
"It's the lightest skiing you can do," he said of a gelande leap. "The Champagne Powder up here is really, really good, but this, you're skiing the air."
The 11 competitors hope to fly today like they've never flown before. They hope to challenge the 366-foot world record set four years ago on Steamboat's largest jumping hill.
"They weren't going for it today," Magill said, surveying the results after Saturday's qualifying round. "I think they'll really let loose (today). Any of these guys could come out and get" the record.
A different kind of sport
At times, gelande jumping seems as if it was invented as the competitors drove into town.
Rolf Wilson, the current record holder, said he has consulted skydivers to help him learn to float a little longer. He wears soccer goalie gloves to give him a little more lift and help him maneuver through the air, and he's always working on his form - anything to gain a few extra feet.
He treats the sport, around since 1964, as a profession, though.
"You have to take it seriously," he said. "Otherwise, who is going to come out and watch and get interested? We have to treat it seriously to help the sport grow."
Just as every gelande jumper is different, so is every gelande jump. The jump at Snowbird, Utah, is nothing more than a pile of snow pushed together every winter. Jumpers have to ski nearly two miles down from the top of the mountain to get in position to jump.
The jump in Missoula, Mont., features a sharp turn on the in-run.
Steamboat's jump, meanwhile, is just a regular ski jump, but unique in it's ability to launch skiers high and far.
It helps that the jump is simply huge, one of the largest in the country. It also helps that it's of an older design than the newer jumps in Park City, Utah.
The landing area in Park City doesn't drop away as quickly as Steamboat's K114 hill does. It's a design meant to help Nordic jumpers ride the ground effects and achieve longer distances but one that prevents all but the best gelande leaps from clearing the initial flat area.
"Every time I pull into this parking lot," Wilson said, "I just look up and get excited."
Gunning for the record
Even Steamboat's hill has flaws. Wilson set the world record on the jump, but there aren't that many more feet to be had.
The landing area begins to flatten out the further down the hill a skier flies, which can turn a touchdown from a graceful slide into a hard crash.
"There's a jump at Lake Placid that I hear if we went there, we could easily beat these distances," Steamboat jumper Pat Arnone said. "But the conditions there are tough. You can have great snow one week, then you might show up and it rains. Most of the jumpers live in the West, so to go all the way out there and not jump would be rough."
Don't expect that to stop today's jumpers, however. They all are hoping to catch the wind and soar on their Alpine skis farther than anyone ever has.
"I'd like to at least be down there where Rolf is landing," said Arnone, who qualified fourth for today's 1 p.m. finals round. "What would be perfect is if we all landed at the same spot, set the world record and let the markers figure it out. That would mean everyone had a great day."