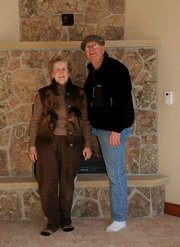 Steamboat Springs — Val and Bob Lish fervently were hoping to sell just one half of their spec duplex in Flat Tops View Village this winter. But they didn't imagine, in Steamboat's slumping real estate market, that both halves would go under contract and close for a combined $2.2 million within the span of a month.
"We had already withdrawn the other half from the market and were planning to move in ourselves when Doug Labor (of Buyer's Resource Real Estate) brought us the second buyer," Val said. The out-of-state buyer already had looked at 30 properties when he made his offer. The buyer for the other half of the duplex was brought by Realtor Douglas Wipper, now with Yampa River Realty.
The Lishes said they realized a profit on their spec duplex, but acknowledged settling for $400,000 less than what they had hoped for in late 2007 and early 2008.
Val is a Realtor working with Ken Gold's team at ReMax Steamboat. She and her husband previously had purchased and sold real estate in New Jersey and built a home in southern Vermont. But they never had undertaken a project the size and expense of their Steamboat property before.
They live immediately west of Flat Tops View Village in a smaller Quail Run townhome and purchased the duplex lot to hang onto in 2003.
Flat Tops View Village came through the city planning process in 2000. The 0.28 acre lots - the smallest duplex lots allowed under city code - went on the market in 2002.
When original developer Heinz Astein brought the subdivision on the market, he was unable to attract any buyers for the lots at asking prices from $220,000 to $250,000.
When original listing broker Mike Wolverton, of Elk River Realty, dropped the prices by about $25,000, they fit into the typical business plan for a spec duplex and local contractors began snapping them up.
All but one of the 19 lots had sold by summer 2004.
Val Lish purchased their lot for $190,000 - much less than the prices being sought since 2006 for single-family lots, let alone duplex lots in the neighborhood off Village Drive.
Brian Ladd, of Ski Town Real Estate, has since sold a lot three doors down from the Lish property for $800,000.
"I still feel that was a very legitimate sale," Ladd said.
He explained that when he develops a spec house himself, he avoids paying more than 25 or 30 percent of the estimated final retail price.
Based on typical sales prices in the neighborhood of $1.6 million to $1.7 million for a single duplex unit in 2006 and 2007, he said, paying $400,000 for the land for each unit fit those parameters.
Ladd also sold half of a similar duplex in Flat Tops View for about $1.8 million. Based on that sale, Val Lish priced the halves of her building at $1.57 million. She began marketing the project in May 2008, while crews working for general contractor Tom Dover were framing the duplex.
As the summer wore on with only mild interest, she dropped the price twice.
Bob Lish said they were attracted to Dover because of his track record and his longstanding habit of showing loyalty to subcontractors, including their son, Rob Lish, who owns RJL Custom Color.
"Tom Dover sets a budget and generally comes in under it," Bob Lish said.
Looking down the road
Wipper said he had been working with his clients from Minnesota for almost seven years. He said his buyers had stringent requirements and wanted to be reassured they were buying near the bottom of the market. He recommended to them that in order to meet their goals of realizing income from vacation rentals, they buy within a niche that would allow the property to host several families.
Each side of the Lish duplex offers four-plus bedrooms with large closets and bathrooms in each bedroom. The great room is large and set off by a paneled vaulted ceiling, heavy glue-lam beams and trusses wrapped in alder.
The dining room is large enough to accommodate a table for as many as 14 people. The master bedroom has its own fireplace and deck.
"The price point was also important," Wipper said. "We were able to get nice finishes for less than $300. I told them I don't think you can go wrong at that price. I think they'll be thanking me in five years, and that's where I want to be."
Lish and Wipper agree that there are buyers waiting to take action in the Steamboat market, but pricing properties appropriately for the economic climate is critical.
"You have to believe it's going to turn around, and you have to have a plan," Val Lish said. She added that spec builders also need a back-up plan.
Ladd said that although we might see some retrenchment in lot prices in Steamboat, he doesn't think they will retreat to the extent that finished units might, simply because the number of undeveloped lots is finite.
Val and Bob Lish turned a profit on their duplex even after dropping their asking price for each side by more than $400,000. Their success was because of the fact they bought and held their lot in 2003, and Dover brought their final construction cost in at less than $300 per square foot.
One side measured 3,477 square feet and the other 3,690 square feet. The final sale price for both was $1.1 million.
Ladd said it's likely that lot prices here have matured at the end of a growth cycle.
"We've reached a level of maturity where it's harder for spec builders because the ratios no longer make sense," Ladd said. "The purchase of lots becomes a discretionary purchase for someone wanting to build a dream home. We'll see more design to suit and custom-built homes."