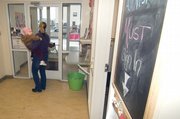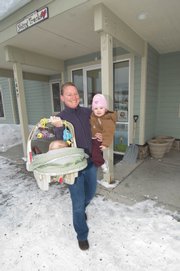 By the numbers
26 - percent of monthly self-sufficiency costs used for child care by a Routt County family with two adults, a preschooler and an infant
20 - percent of those costs used for taxes
18 - percent used for housing
12 - percent used for food
24 - percent left over for everything else
Source: Colorado Fiscal Policy Institute
Steamboat Springs — Teachers who have lived in Steamboat Springs long enough know the drill: Sign up for day care as soon as you realize you or your spouse are pregnant.
But that is often not enough. Even if a slot is available when the child is born, and even if the schedule for the facility works with the teacher's schedule, costs can easily reach more than $1,000 a month.
Strawberry Park Elementary School special education teacher Niki Struble said that by the time she pays her monthly mortgage bill and day care costs for 5-month-old Sean and 21-month-old Kaitlin, she's left with practically nothing to put in the bank.
"It's impossible to save money. My son was hospitalized twice since his birth : and I had to return to work to pay the bills," she said.
Several months ago, Struble wrote a letter to ask the Steamboat Springs School District to help provide district personnel with the day care they need.
"I cannot even begin to describe what a tremendous help it would be," she said. "It would be a phenomenal tool to keep and retain qualified teachers."
She is one of many school district staff members searching for child care answers - an e-mail sent to district staff had more than a dozen responses from teachers who are in the same position and are almost unanimously struggling with day care issues.
Numbers show the need.
Stephanie Howle, early childhood manager for the child care advocacy group First Impressions of Routt County, said Routt County's need for child care is mostly in the infant and toddler groups. In the pre-kindergarten groups there are 838 children ages 2 to 5, and only 419 slots available. Some of those slots can be used by more than one child, on alternate days or times.
A First Impressions survey shows local child care can cost between $22 and $61 a day, depending on the age of the child in care. Day care for infants and toddlers tends to cost more than older children.
For 2009, First Impressions data shows day care centers will cost an average of $60 a day for children younger than 2 1/2, and $50 for children older than 2 1/2. For home providers, the average is $40 for children younger than 2 1/2 and $38 for older children.
Howle said local child care is more expensive than in Denver, but it remains cheaper than other ski towns, including Breckenridge, Aspen and Vail.
Pros and cons
School district officials are floating possible solutions including salary and benefit negotiations, teachers joining together to work as rotating child care providers, and putting a day care center in a local school.
Steamboat Springs School Board Vice President Denise Connelly said teachers could raise the issue through the bargaining team that negotiates teacher salaries. If the issue of day care was listed as one of the highest priorities, the district could devote funds to the project. Alternately, Connelly said, teachers could collaborate to take care of one another's children.
In order to do that, teachers would band together, with one teacher taking a yearlong leave of absence to take care of other children. Connelly suggested the group could then rotate, with the next teacher taking over the next school year.
Superintendent Shalee Cunningham said that would definitely be a possibility, because teachers are allowed to take leaves of absence in current policy.
The difficulty would be certifying each teacher's house as a day care facility and finding enough willing teachers. Achieving certification as a day care facility can take several months and require physical changes to the house. There are also limits on how many children could be cared for in each facility.
Another method would be to create a day care facility at one of the school sites, charging teachers a fee per day that would cover expenses.
"I think it is plausible. Space is always an issue although we have a nice facility right here," Cunningham said. "I've done this before in other districts. It's self-funded. Basically it's just a matter of finding the right people who are interested in coming in who are credentialed who can set up the program."
Cunningham said details for the program could come out of planning workshops she will hold with community members later this month.
A school-run program would have a schedule that lines up with when teachers work, Struble noted. She keeps her children in day care for most of the summer because she does not want them to lose their place at Young Tracks day care.
She said she would save about $9,000 a year if she did not take her two children to day care during school breaks.
"You can't blame the center; they have such a demand they're going to take whoever can pay their bills immediately," she said.
Routt County's need
Soda Creek Elementary School special education teacher Cicily Townsend, who has an 11-month-old daughter, Alice, moved here from Montana last year when she was pregnant. She said she had a very difficult time finding child care after moving but eventually found a slot. In Montana, day care cost about $400 a month, and she is now paying nearly triple that amount, she said, putting a strain on family finances.
"We hope to stay here. It's a great place to raise our kids. We hope to stay here as long as we can," Townsend said.
Laura LeBrun, a second-grade teacher at Soda Creek, said the financial strain of day care in Steamboat has figured in her family planning.
"I planned as much as I could to have my children further apart so I didn't have two in day care," she said. "I have this year with two in day care, and it's been the toughest year financially for my family. Next year my son is going to kindergarten and it will feel like I'm getting a raise. Forget about having three children."
Cunningham has listed teacher attraction and retention as one of her highest goals, and day care advocates say day care would be a benefit to younger staff.
"I would say if something isn't in place, the younger you are the more you're going to struggle, the newer you are to this community," LeBrun said. "I think it will help retain good staff in the future because I hear of people who are working extra jobs even with their children."
Connelly agreed that it would help retain staff, but she said it also likely would create a trade-off in funding.
"I think it's a great idea, it would be a great service. It would go far to attract and retain," she said. "On the other hand, we'd have our funding cut more and more, and we don't know what lies ahead. Every day, something else surfaces, and we don't know what it holds."
Susan Gruben, an English Language Learners teacher at Strawberry Park Elementary School, said she had to turn to family members to help her with child care. Her daughter, Evalina, turned 1 Saturday.
Gruben began calling day care centers when she was pregnant and found the process frustrating.
"They didn't laugh at you, but for (children) under 2 there's really nothing available," she said.
Gruben's mother, who telecommutes, offered to take care of Evalina for the first year. But Gruben said she is going to have to start looking for child care again soon.
To her, child care through the district is a natural extension.
"If we can't provide support for parents we're in the wrong business," she said. "It seems like we could come up with a way to be supportive."
- To reach Zach Fridell, call 871-4208 or e-mail zfridell@steamboatpilot.com