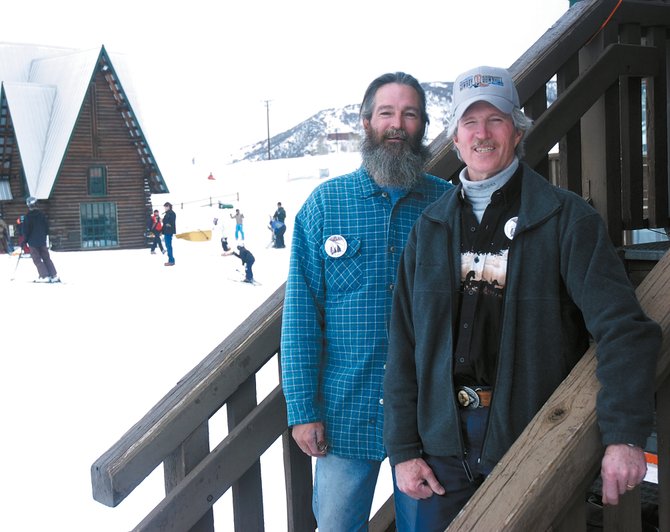 Tom Ross: Lighted Man continues to shine
Saturday, February 7, 2009
Tom Ross
Tom Ross' column appears Tuesdays and Saturdays in Steamboat Today. Contact him at 970-871-4205 or tross@SteamboatToday.com.
Find more columns by Tom here.
The brother of Winter Carnival's famed Lighted Man has been waiting more than 30 years for the chance to douse his sibling with a fire extinguisher. The chance could come tonight for Kent Banks when his brother, Jon, resumes a family tradition that has been carried on with only a couple of misses for 70 years.
Jon Banks, 61, is set once again to thrill the Winter Carnival Night Extravaganza crowd by skiing down the face of Howelsen Hill, his poles and skis illuminated by electric lights while Roman candles explode out of tubes mounted on his backpack.
"There's a certain amount of risk," Jon acknowledged matter-of-factly.
The Night Extravaganza begins at 6:30 p.m. today at Howelsen Hill in downtown Steamboat, reachable via the Fifth Street Bridge. There is limited parking on the Howelsen Hill side of the Yampa River.
Since 1978, Kent has been skiing 50 feet behind Jon, deliberately obscuring his presence with black clothing, all the while standing at the ready with a fire extinguisher in case something goes wrong.
"I've been the fireman ever since I was a teenager," Kent says. "I can be there in a hot second if I have to."
The two brothers have refined the Lighted Man act and have improved the safety measures of the protective suit Jon wears to minimize risk. But they are prepared for an unexpected flame-out.
Kent likes to joke that if the fireworks ever do put his brother in danger, he might just stomp them out instead of using the fire extinguisher.
Claudius Banks, father to Kent and Jon, made his first thrilling run down Howelsen Hill during the Winter Carnival Night Show (as it was called for many years) in 1939. He actually had made non-publicized trips down Howelsen with lighted poles as early as Winter Carnival 1936. He finally was ready to go public four years later.
Claudius Banks and his wife, Carol, raised their family in Vernal, Utah. But on winter weekends, Claudius roused his brood out of bed before dawn so they could set out for Steamboat, and the other ski area, in time to catch the first or second chair.
"My dad was a skier," Kent Banks said. "And we skied until the lifts closed. We'd tell him we were hungry, hoping we'd get to take a break in the warming shack, but he'd pull sandwiches and drinks out of his coat. He was like a vending machine." From 1971 through 1978, there were two Lighted Men on Howelsen Hill, Claudius and Jon, and Kent made it a trio in 1977.
Claudius caught on fire several times during his career as the Lighted Man. In 1976, John came out of both skis and somersaulted while fireworks continued to spew from his backpack.
Claudius originally skied with the fireworks issuing from a tower affixed to his protective helmet. Today, Jon has the fireworks' launchers on a metal frame that extends to the rear for his backpack.
But things still can go awry.
"One time, the Roman candle blew the plug out of the bottom," of the launcher. "It felt like someone hit me with a ball-peen hammer."
Flames ricocheted off Jon's shoulder and extended down the arm of his fireproof sleeve.
Kent was ready to leap in with his fire extinguisher when Jon skidded off like nothing had happened.
Today, Jon can't imagine missing Winter Carnival. He drove here this week from his home near Seattle because he won't trust his Lighted Man equipment to shipping companies until it's time for the return trip. He can't risk losing a crucial piece of equipment.
"Through all of the changes in my life and all of the moves I've made, there's one constant, and that's the second week in February in Steamboat and Winter Carnival," he said.
But Jon can't continue skiing down Howelsen Hill with fireworks shooting out of his back forever.
Kent Banks has an idea that his son Jonathan, 28, will take up the family tradition.
"He's the perfect victim for this," Kent said. "The only problem is, he prefers snowboarding to skiing."
- To reach Tom Ross, call 871-4205
or e-mail tross@steamboatpilot.com