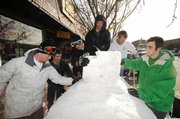 Steamboat Springs — Hannah Beggs and her team of snow sculptors learned a lesson during last year's Winter Carnival: Keep it simple.
As Beggs and four other Steamboat Springs High School students chipped away at a solid block of ice and snow in front of The Rio Grande Mexican Restaurant on Thursday morning, they explained a 2008 plan to carve a flock of penguins:
"They looked like dinosaur chickens with giant Mohawks," the team decided. This year, the group opted for a more straightforward design - Beggs described it as a "winter wonderland castle" - for the snow sculpture contest that invites high school students to submit and craft frozen sculptures each year during Winter Carnival.
"Simpler designs make a better sculpture because you can get more of a shape out of it," said team member Corey Puffett. By 3 p.m., the group had sculpted an open-air castle and was pouring colored water over the building's four towers.
Puffett and Beggs' team was one of 18 groups of local high school students to have its sculpture design selected for the contest, which has been a Winter Carnival tradition for more than 20 years. Seventeen teams from Steamboat Springs High School and one team from Christian Heritage School took the day off from class Thursday to transform a horizontal or vertical tower of snow into a pre-approved artistic vision.
The finished designs include a guitar, a train, a polar bear, a unicorn, a ram, a penguin, the Howelsen Hill judge's tower and a striking snake.
The "Popeye" snow sculpture, by students Abraham Rodriguez, Rogelio Loya, Daniel Delgadillo, Jose Luis and Alan Nunez in Old Town Square at Seventh St. and Lincoln Ave., won first place in this year's contest. Second place went to the ram in front of Epilogue Book Co.; third place to the train engine in front of Lyon's Corner Drug and Soda Fountain; and honorable mentions were awarded to the bear in front of The Homesteader, the swans in front of Hofmeister Jewelers and the Aztec sun in front of Fifth Street Marketplace.
Mike Campbell, a counselor at the high school who helps supervise the contest, said carving a snow sculpture is more challenging than it might look.
"I realize after I chip away the ice and snow, it's a lot harder than it looks, and kids find that out," Campbell said, resting in his office after a day of supervising the student sculptors. "Most of them struggle a little bit in the morning, and most of them work through it and have success. It's good for them; it's good teamwork and communication."
Downtown businesses pay $50 to have a sculpture in front of their store. The students are assigned randomly to their sidewalk locations and set to carving just before 9 a.m. Thursday. On Wednesday night, team members and high school staff worked with city employees to build plywood forms for the sculptures and pack them full of snow. Steamboat Springs High School athletic director Richard Lee and athletic department secretary Kate Parke help organize the contest.
High school senior Sierra Lorenz sat on top of her team's snow form early Thursday, packing a mound of chunky frost on top of the pile to shape a head for her team's Swedish horse design.
"We wanted to do something that had some relation to Steamboat, and (Carl) Howelsen was from Scandinavia," Lorenz said about her team's design choice. By 3 p.m., Lorenz's team had finished shaping the horse at their sculpture spot in front of the Routt County Courthouse.
The finished sculptures will be up through the weekend of Winter Carnival.