Photo Gallery
John Fetcher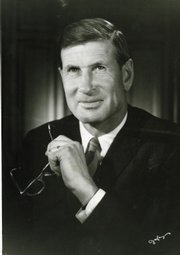 John Fetcher, one of Steamboat Springs' and Colorado's leading citizens, died late Friday afternoon. Here are some photos of John throughout the years.
Read more about John Fetcher
Steamboat Springs icon John Fetcher has been in many newspaper and magazine stories. Here are links to some of the highlights.
Folklore forecasts
Local ranchers predict winter weather in wild ways
"I get my winter forecast from discussing the matter with the beavers that infest our ranch," John Fetcher said. "We have lot of beavers, and if they build lots of dams, we figure it's going to be a hard winter."
Read the story here.
A battle for the bees
In 2005, John Fetcher's five beehives produced 14 gallons of honey. In 2007, they produced zero.
Read the story here.
Fetcher, 96, to semi-retire
John Fetcher has decided that at age 96, it might be time to semi-retire from his post as general manager of the Upper Yampa Water Conservancy District.
Read the story here.
John F. Russell: Senior tennis players break new ground, age gracefully
John Fetcher, 96, only can play tennis on Mondays and Fridays because he's too busy working. Maybe he'll play five days a week when he retires.
Read the story here.
Looking back: The history of a ski town
Seven men, some of them dreamers, gathered nearly 50 years ago at the base of Storm Mountain. They assembled to have their picture taken on the day Jim Temple broke ground on a new ski area for Steamboat Springs. Two of the men stood on a squat bulldozer. The remaining five stood proudly in front of it.
Read the story here.
Tom Ross: Reservations are hard to come by at Stagecoach Dam Cafe
My pal John Fetcher invited me out to lunch Friday at a little out-of-the-way spot built into the base of the Stagecoach Dam. He eats lunch there every Friday.
Read the story here.
Steamboat Springs — John R. Fetcher, who helped changed the course of history in Northwest Colorado by building reservoirs, overseeing local water districts and ushering Steamboat Ski Area into the modern age, died late Friday afternoon at Yampa Valley Medical Center. He was 97.
Fetcher's son, Jay, said his father was admitted to the hospital Monday to be treated for pneumonia.
"He went very peacefully," Jay Fetcher said.
John Fetcher died on the eve of Steamboat Springs' 96th Winter Carnival weekend, less than 24 hours before skiers were scheduled to soar off the jumps at Howelsen Hill. More than 35 years earlier, he had helped to resurrect the historic ski jumps after a fire. That effort was one of countless impacts Fetcher had on the Yampa Valley.
Fetcher was a Harvard-trained engineer who learned to ski as a youth in Switzerland and worked in Europe before returning to the United States and working as an engineer in Philadelphia. He and his brother bought a ranch on the Elk River near Clark and moved their families there in 1949.
Fetcher met Olympic skier Gordy Wren, with the Steamboat Springs Winter Sports Club, and quickly became involved in a national ski hill engineering committee, where he helped to improve the safety of ski-jumping hills.
His pioneering work in building ski jumps and ski areas earned him a place in the Colorado Ski and Snowboard Hall of Fame. However, Fetcher said in 2008 that the accomplishment he was most proud of was the role he played in building Yamcolo Reservoir in the late 1970s on the headwaters of the Yampa River.
"Yamcolo was an absolute godsend to the ranchers," Fetcher said in May 2008. "In 1977, the year of the terrible drought, some of the ranchers in Yampa couldn't take any water out of the river because it wasn't flowing. They didn't put up a single bale of hay and had to sell off their cattle. Since Yamcolo filled, we've had adequate irrigation supplies for all of the ranching community."
His passion for preserving Northwest Colorado water for the betterment of the region led him to spearhead the creation of Steamboat Lake on his own ranch and Stagecoach Reservoir near Oak Creek. Both became popular state parks.
Stagecoach Reservoir boasts a small hydroelectric power plant and during his 90s, Fetcher delighted in inviting guests to Friday brown-bag luncheons at the dam - or more accurately, inside the dam, where he could give tours of the power-generating equipment.
Fetcher retired from his post as secretary of the Upper Yampa Water Conservancy district Dec. 31, 2008, but continued going into the office three days a week to put his files in order. He was at his desk as recently as Feb. 2, Jay Fetcher said.
Love of the slopes
Fetcher was almost as passionate about building ski facilities as he was about building reservoirs.
In 1958, he began lending his engineering skills to further Jim Temple's dream of building a Storm Mountain ski area on the broad-shouldered mountain people have come to know as Mount Werner, home to Steamboat Ski Area.
Fetcher was vice president and chief engineer for Storm Mountain Ski Corporation from 1959 to 1962. He was president of Mount Werner Ski Company from 1962 until 1971.
Launching the ski area was far from a glamorous task.
In December 1962, with Storm Mountain facing financial difficulties and struggling to open its first chairlift, Fetcher made an improbable trip to Long Beach, Calif., to fetch the essential bull wheel for the chairlift in an old Ford ranch truck. Somehow, he limped home in 48 hours, then worked late Christmas Eve with Merle Nash and ski-racing great Buddy Werner to splice the chairlift cable. During his tenure at the ski area, Fetcher oversaw construction of the original Christie, Thunderhead, Four Points, and Burgess Creek chairlifts. He also took a lead role in the acquisition and installation of Steamboat's first gondola.
After negotiating the sale of the ski area to LTV Aerospace in 1969, he left the company in 1971. However, Fetcher couldn't stay away from ski areas. When the Howelsen Hill ski jump burned in 1972, he formed a local group to raise $1.3 million to rebuild the jump that was founded by Carl Howelsen.
Talent and humor
Fetcher set a remarkable example for living life to its fullest. In his 90s, he carried a chainsaw in his vehicle so he could cut fallen lodgepole pine from rough roads on the ranch. In June 2008, he drove a tractor to harrow the hay meadows. In September, he cleaned out ditches with a small bulldozer.
Fetcher didn't miss an opportunity to call visiting political candidates to task during the fall campaign of 2008, when he still was a regular in a local tennis league.
Standing in a meadow on his upper ranch in June 2006, Fetcher beamed at the sight of snowmelt rushing out of Floyd Creek on its way to one of his irrigation head gates.
"Isn't that beautiful?" he exclaimed.
In Fetcher's view, there was no better use for the water of Northwest Colorado than raising grass hay to feed cattle.
"In this country, the only thing we can grow is grass," he said. "We're lucky to have 60 days between frosts. Our job here is to convert grass into beef - period. If they take our water, we're out of business. It's that simple."
John Fetcher was far from a simple man, but he had a gift for making things plain and a special talent for getting things done. And he did it all with good humor.
Routt County is not likely to see another like him.