On the 'Net
The "maggots" of the Teton Gravity Research forums helped track down Andy
Campbell's skis, which were stolen in Steamboat Springs. The online
community now is raising money to help the disabled skier to return home to
Britain after an accident in the X Games.
- The forums can be found at www.tetongravity.com/forums/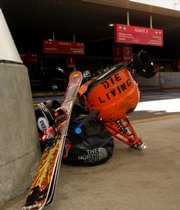 Steamboat Springs — Temperatures crept above freezing in Aspen for the first time in days, but Andy Campbell didn't enjoy a second of the sunshine Friday. He lay stranded in his bed in the Limelight Lodge, the hotel he landed in after a several-day stop at the Aspen Valley Hospital, where he was rushed after an unexpectedly quick end to his stint as an X Games athlete.
His leg was broken, and there was every reason for his faith in humanity to be shattered along with it.
Instead - reflecting on the bizarre, disturbing chain of events that took him from Steamboat Springs to the X Games and the Limelight - he saw the good in it all.
"It's kind of amazing," he said, pausing. "It reaffirms your faith in people."
The crime
Campbell's journey began two weeks prior. The former British soldier, paralyzed from the waist down five years ago in a rock-climbing fall, traveled to Steamboat Springs to ride with Craig Kennedy and other world-class adaptive skiers in the Legends of Deep Powder skiing event on Buffalo Pass.
Campbell said he had a nearly perfect day on the backcountry powder. But he didn't expect two of the skis specially designed for his monoski to go missing while he was out.
The pair of 192-cenimeter Bro skis was built by Campbell's sponsor, PM Gear, a small ski company headquartered in Reno, Nev.
The $798 set of custom skis vanished from a stairwell at the Steamboat Sheraton, where disabled skiers had been storing supplies throughout Kennedy's weeklong disabled ski camp.
"I keep my stuff there all the time," Kennedy said. "These skis were way back in the corner in a box, so someone had to go looking for them."
The theft left Campbell with precious few skis for his first stint in the X Games.
The hunt
Kennedy and other Steamboat locals printed fliers and notified every ski shop in the area to stay on the lookout for the unique skis.
Campbell, meanwhile, had to pack up and drive to Aspen with what equipment he still had.
"Obviously it was a bit of a sucker punch to find out they were gone," he said, "but I had to go."
Enter the "maggots," the rabidly dedicated Internet message board posters of the Teton Gravity Research forums.
Campbell is a regular poster on the board that caters to powder-crazed skiers around the country. His friends were quick to get word out about the stolen skis.
The maggots scoured eBay and Craigslist. It didn't take long for a clue to emerge.
"Some maggot from Steamboat calls me and said he'd been offered a chance to buy them," said Pat Keane, owner of PM Gear and a regular on the TGR forums.
That maggot, "Darkstar," came to Campbell's rescue five days after the initial theft. The Steamboat-based skier had stumbled upon the stolen Bros.
Over a series of posts he claimed friends offered to sell him the skis, which they claimed to have bought off a ski area employee.
"I don't know what to make of it," Keane said. "I said 'Dude, I want that person arrested,' and he got all nervous about that, then I asked, 'How bout just a pound of flesh,' and he really got nervous.
"We settled on him just getting skis from those people and getting them to us."
One of Keane's friends already was rushing to Aspen with a new set of skis and stopped by Steamboat to pick up the newly discovered loot, then continued to the X Games, arriving the night before Campbell's Mono Skier X competition started.
The consequences
But it was too late.
There wasn't time to mount any of the new skis, and Campbell broke his last good ski during the first qualifying run.
Desperate to make the event's semi-finals, he borrowed the only ski he could find that had any chance of working. It was a far cry from the 192-cenitmeter beasts he had left in Steamboat Springs.
"I had to borrow a 155 women's slalom ski from a spectator," he said.
Still, Campbell said he realized all he had to do was qualify. Then, there'd be time to mount bindings on the newly arrived skis, and he'd be at full strength for the semi-finals.
"I tried to take it very slowly so I'd at least finish the course," he said. "Even going slow, I was still going faster than some of the other guys."
He took the easiest path possible and that, too, was going well until he approached one of the tamest jumps on the course.
"I was feeling a little confident. I thought, 'I'm carrying enough speed," he said. "Without as much ski behind me I had too much weight leaning back. I went into a back flip, crashed down on my back, bounced, landed on my feet and snapped my femur."
The payoff
Campbell initially had planned to return to Britain soon after the X Games. His plans changed.
The maggots aren't the kind to abandon their own, and when news of Campbell's injury made its way back to the message board, they rose up again to offer a hand.
The group has collected more than $2,500 - mostly through $10 and $20 donations, Keane said - to help cover medical expenses and any unexpected costs that arise because of Campbell's extended stay.
Campbell said he never focused his frustration on Steamboat Springs.
"I'll be back to ski that powder again," he said.
He didn't focus his frustration on skiers, either.
"Someone stealing skis is a pretty scumbag-type person, but then the outpouring of support and help I've gotten from TGR:" Campbell paused again. "To recover these skis, it's amazing and reaffirms the skier mindset. It totally reaffirms your faith in people."