Document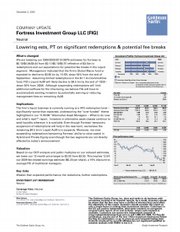 Document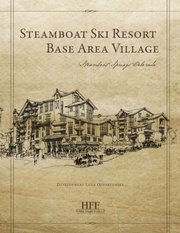 Steamboat Springs — Fortress, the financial foundation of Steamboat Ski and Resort Corp. and a backer of several base area redevelopment projects, is facing significant challenges that could affect construction on Mount Werner.
Fortress Investment Group, a public hedge fund and private equity firm, is the parent company of Intrawest, which owns Ski Corp. Amid the global economic downturn, the New York-based Fortress has made headlines because of financial concerns - Fortress stock declined from $31 a share in February 2007 to $1.45 a share when the market closed Wednesday.
A real estate document links a Fortress fund to base area redevelopment projects.
The Steamboat Ski Resort Base Area Village prospectus listed three partners for the Thunderhead Lodge and Ski Time Square redevelopments. The prospectus aims to secure development financing for the project. The Atira Group, Cafritz Interests and Drawbridge Special Opportunities Fund, which is a Fortress fund, are listed as partners.
"Intrawest ULC, a subsidiary of Fortress Investment Group, has agreed in principal (sic) to provide an additional $5 million equity investment in the Sponsorship entity," the document states.
Ski Corp. President Chris Diamond said he hadn't seen the document or heard about any Intrawest plans to invest in the project. It's possible that Intrawest is considering making an equity investment once the development permits are in place, Diamond said. He said he was not involved.
Despite Fortress' troubles, officials with The Atira Group and Cafritz Interests reaffirmed their progress on the base area redevelopment today. The project will replace the demolished Ski Time Square and Thunderhead Lodge with 1 million square feet of high-end residential and commercial space.
"We are proceeding. Let's be really clear on that," said Mark Mathews, a vice president for development with The Atira Group. "It's our intent to keep moving on this."
In city planning hearings, Mathews often has referred to a "five-star brand" that has signed a letter of intent to operate the Thunderhead property. The prospectus confirms that company is the Ritz-Carlton.
Holliday Fenoglio Fowler LP, a commercial real estate capital intermediary, created the prospectus. Kevin MacKenzie, a managing director for the firm in Dallas, declined to comment in an e-mail. Lilly Donohue, director of investor relations at Fortress, has not returned a call seeking comment.
Diamond said Ski Corp. was not involved in the Thunderhead or Ski Time Square projects.
"It has debt funding through Fortress through its Drawbridge fund," Diamond said. "It's a separate investment from Fortress' investment in Intrawest."
Intrawest deals with Fortress' private equity side, Diamond said, adding that Fortress' Drawbridge fund deals with real estate. That fund also is invested in the Edgemont project near the base area, Diamond said. Fortress is the umbrella group.
"The public company is just basically the management group that receives fees when they're successful in their deals," he said.
Feeling impacts
Last month, the Steamboat Springs Planning Commission supported a development plan for the Thunderhead site. Mathews said he plans to submit a development plan for the Ski Time Square site in March.
Mathews and Cafritz Interests Senior Vice President Melanie Domres were reluctant to discuss Fortress' involvement in the process. Mathews said the investment group had hoped to "stay out of the press on this."
"We have partner calls basically on a weekly basis, and all the partners are in line on proceeding," Mathews said. "Our financing is in place today, and we're proceeding with our development plan and then on to presales. : There's no question that the impacts of Wall Street are being felt, but we are still proceeding with this, and there's a process here."
After entitlements, Mathews said, the speed with which the project moves from presales to construction will depend on the threshold that lenders will require before they will finance the construction. In October, Mathews said that threshold usually has been 50 to 60 percent, but with the credit markets in turmoil, he and Domres said the requirement now is a moving target.
"It's really impossible for us to predict at this point," Domres said. "Our sole focus is on the site plan process."
Discussing new deals
According to Fortress Investment Group's third quarter 2008 filing with the Securities and Exchange Commission, the Drawbridge Special Opportunities Fund had $6.4 billion in assets under management as of Sept. 30, 2008. The filing also states that the fund was 18 percent below its peak value at the end of October.
In December, Fortress told investors they couldn't get their money back from several of its funds. The temporary move came after Fortress received requests totaling $3.51 billion in redemptions to investors for November and December, the firm reported Dec. 3.
Intrawest has faced its own money concerns.
The Vancouver, B.C.-based company refinanced $1.7 billion in debt by an October deadline. In November, Intrawest announced layoffs and "realignments" in its work force.
That affected 16 Steamboat Ski Area employees, Ski Corp. officials confirmed at the time.
Intrawest runs 11 North American resorts, including Whistler Blackcomb in British Columbia and Copper Mountain and Winter Park. Intrawest's deal to buy the Steamboat Ski Area from American Skiing Co. was finalized in March 2007.
Diamond said the ski resort was not for sale.
"There is an exploration of setting up a new financing deal by resort. : We want to have a new refinancing plan in place, and one of the options that's being explored is looking at setting up each company with its own debt," he said.
It's speculation now, Diamond stressed. If such a deal went through, it would mean that instead of one credit facility for all of Intrawest, resorts including Steamboat, Winter Park and Copper Mountain would have their own, he said.
"That's one of four or five strategies being discussed at the moment," Diamond said.