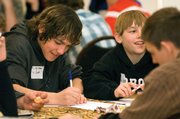 Josie Pacana knew it was a trap.
First, Dave Keller, one of the presenters at Monday's Leadership Symposium, put $1 into Josie's hand. Then, he laid $10, $100 and finally $1,000 bills in her hand.
"He's going to do something that takes it away," Josie said as Keller continued the lesson on the importance of character and leadership.
"For the rest of today and all of tomorrow, I want you to be the person you want to be," he said. "Is that enough money?"
Josie, a senior at Yampa Valley High School, was standing in front of two dozen fellow Routt County high school students at the end of the symposium organized by The Classical Academy. Keller, who took time off from his job at the U.S. Air Force Academy to present, was giving the closing remarks after a day of leadership instruction and activities.
"It is going to require maximum effort on your part. Can I count on you to :"
"Yes," Josie interjected before Keller could finish.
In its sixth year, the Leadership Symposium is sponsored by Steamboat Springs residents Harriet and Irwin "Fry" Freiberger to bring together juniors and seniors who demonstrate leadership or leadership potential.
On Monday, the students took leadership personality surveys to determine their leadership styles and learned about how the different types of leadership styles interact.
Jon Lee, a junior at Hayden High School, said that based on the profile, his leadership style is laid back and fact-based.
Lee, who uses his leadership skills in basketball, Knowledge Bowl and band, said he learned how he needs to keep up with the pace of the group and that facts don't always determine the outcome.
Expansion
This year, under the coordination of Hayden School District counselor Danica Moss, the Leadership Symposium program grew to include 45 eighth-grade boys during a separate workshop at Steamboat Springs Community Center. Led by presenter Peter Hilts, the program taught the boys about character development as they head into high school.
"I really hoped that today was a time they could really stop and think about who they are and not what they are trying to be, because I think a lot of the time, boys and kids in this age group are trying to impress their friends," Moss said.
By using a combination of movie clips, songs and activities, Hilts led the boys through thought processes of who they want to become.
"It was showing them what it does to you if you don't take responsibility when you screw up," he said. "And they're going to screw up."
Both programs were funded through grants from the Daniels Fund and the Freibergers. Moss said next year she would like to expand the program to include every Routt County eighth-grade boy. She said she sees this as a complement to the Girls to Women program offered to eighth-grade girls.
Leader tomorrow
As he took the $1,000 out of Josie's hand, Keller asked if it was worth it and if she would remain a leader tomorrow even without the money.
"All you're left with tomorrow is that you are a leader of character," he said.
Josie sat down, empty handed, but said she understood the message.
"We'll be making a lot more than money if we use these skills," she said.