Document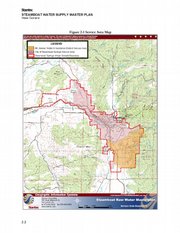 Past Event
Tuesday, February 3, 2009, 4 p.m.
Centennial Hall, 124 10th St., Steamboat Springs
Not available
Agenda
4 p.m. Interviews for the Parks and Recreation and Historic Preservation Advisory commissions; Steamboat 700 and 360 Village annexations update; Vision 2030 update; Steamboat Springs Chamber Resort Association special event funding; consent calendar
7 p.m. Public comment; second reading of an ordinance pertaining to the historic preservation review process; second reading of an ordinance pertaining to the enforcement, definition and inspection of secondary units; City Council and staff reports
On the 'Net
To download the complete packet for tonight's City Council meeting, visit the city of Steamboat Springs Web site.
By the numbers
Steamboat Springs' projected water demand (in millions of gallons per day - mgd)
Avg. day Max day
2007 2.8 6.7
2010 3.2 7.7
2015 4.6 11
2020 5.5 13.1
2025 6.2 14.9
2027 6.4 15.5
Current capacity: 9.3 mgd
Source: Steamboat Water Supply Master Plan
The Steamboat Springs City Council will debate tonight whether to adopt a water dedication policy for annexed properties and whether to apply that policy to existing applicants.
Developers including those of the proposed Steamboat 700 master-planned community west of city limits fiercely oppose the idea of having a new water policy applied to them midstream.
Interim City Manager Wendy DuBord said she will recommend adoption of the policy, which would require developers to bring water rights or resources to develop existing water rights to the table as a requirement of annexation.
"I think we need to have a policy, in my opinion. To me, it's just prudent. Water and sewer services are a basic function of a municipality. We should have set policies so we're not doing it on a case-by-case basis," DuBord said.
She also said she will leave it to council members to decide whether Steamboat 700 should be held to such a policy if adopted.
"That's one that I'm not going to give an opinion on. That's a policy/political decision. I could argue both sides," she said.
DuBord also said the adoption of formal policy would be helpful to developers because it would provide predictability. Steamboat attorney Bob Weiss, who is representing Steamboat 700, said a water dedication policy makes sense going forward, but he argued that the city historically has not applied new rules to pending applications. He said he is not satisfied with the argument that cities have broad latitude to require whatever they like in the negotiation of an annexation.
"I think that's a technicality," Weiss said. "I think they should adhere to the principle."
Council members are torn on the issue. Councilman Steve Ivancie said he is in favor of adopting a policy and applying it to pending annexations. He said the developers of Steamboat 700 should not be surprised that the issue is being raised.
"I've always been asking about water rights," Ivancie said. "I think long-term water rights and water availability is very important to a growing community."
Councilman Walter Magill agreed that the city needs a policy, but he has not yet made up his mind about applying it to existing applications such as Steamboat 700.
"I think we should have a policy to protect our future water needs," Magill said. "If we're going to take on some new residents, they should contribute. : But (Steamboat 700 is) in the application process, so I don't know if we're changing the rules."
Weiss also said the dedication of water rights or resources to develop existing water rights is not contemplated in the West Steamboat Springs Area Plan or Steamboat 700's pre-annexation agreement with the city.
"It is not in the pre-annexation agreement, and the purpose of that pre-annexation agreement was to deal with material issues that could be deal-breakers," Weiss said. "This is a very important issue for my client. It just isn't part of their business plan to deal with this."
Tom Leeson, the city's director of planning and community development, said Weiss' argument isn't entirely accurate. Although there is nothing in the West Steamboat Springs Area Plan or the pre-annexation agreement that specifically states water rights will be required, both documents discuss revenue neutrality and development paying a proportional amount of expansion costs. The pre-annexation agreement also includes a water and wastewater capacity analysis in a list of required studies.
The city completed and adopted that study last year, and both sides have used it as ammunition in the debate. Weiss has cited the study's conclusion that, "Both the city and the (Mount Werner Water) district have a reliable long-term supply source in the Fish Creek Basin capable of meeting projected demands throughout the next 20 years."
However, the study also recommends that, "The city and the district should continue to consider and pursue the development of alternative water supply sources to increase redundancy in the community's water supply."
"I think it's important to recognize that this water rights discussion isn't specifically about water rights. It's the cost to develop those water rights," said Leeson, who noted the city's undeveloped water rights in the Elk River in particular. "That's going to be very expensive."
- To reach Brandon Gee, call 871-4210
or e-mail bgee@steamboatpilot.com