Document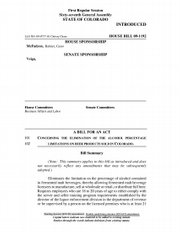 What is 3.2 beer?
Even folks who are elbows-deep in the industry struggle to explain 3.2 beer. David Reitz, former director of the Colorado Liquor Enforcement Division, laid out the distinction. Colorado defines 3.2 beer as anything containing 3.2 percent alcohol by weight or 4 percent alcohol by volume or less.
"Regular Coors or Budweiser's going to be 5 percent (alcohol) by volume, which means they're about 4 percent by weight," Reitz said.
Measuring by weight dates to the Prohibition Era, he said.
"The rule said anything that contained alcohol less than 3.2 percent by weight was not considered intoxicating and thus not subject to Prohibition (laws)," Reitz said. Some states allowed the sale of 3.2 beer during Prohibition, which lasted from January 1920 to December 1933.
Also, until 1987, 18-year-olds in Colorado could drink 3.2 beer, Reitz said. The federal government required Colorado to change that rule. Now, most beers, wines and spirits list alcohol by volume, he said.
Reitz gave this conversion formula: If you know the alcohol by volume, multiply by 0.8 to get alcohol by weight. If you know alcohol by weight, multiply by 1.25 to get alcohol by volume.
Steamboat Springs — Routt County's lawmakers don't want to change beer rules for grocery and convenience stores.
Under Colorado law, those retailers can't sell beer that's stronger than 3.2 percent alcohol by weight. A measure in the Colorado House of Representatives would convert their licenses to allow full-strength beer sales. Supporters say it would eliminate an unfair rule. Opponents say it would put some liquor stores out of business.
State Rep. Randy Baumgardner, R-Hot Sulphur Springs, and state Sen. Al White, R-Hayden, oppose the bill. Baumgardner represents House District 57, which includes Routt County.
"I am going to probably vote 'no' on that bill due to the fact of the impact on the small liquor businesses in my district," he said. "There's a lot of those small businesses that depend on that income to make their house payments and send their kids to school."
White said he also was concerned about small businesses.
"I oppose it because I think if it passes, I believe there will be more economic damage done to small mom-and-pop liquor stores : than large supermarket chains will suffer if it doesn't pass," he said.
State Rep. Liane "Buffie" McFadyen, D-Pueblo West, and state Sen. Jennifer Veiga, D-Denver, are sponsoring the legislation. House Bill 1192 was introduced in the House on Jan. 28 and assigned to the Business Affairs and Labor Committee.
Arguments fly
Supporters point to legislation that went into effect in July, allowing liquor stores to be open Sundays. That has harmed convenience stores such as 7-Eleven, company spokeswoman Margaret Chabris said.
"We very much support legislation that would allow us and many other retailers to be competitive and to sell regular beer, because when we lose beer sales, we also lose sales on other items that accompany beer," Chabris said.
Sean Duffy, spokesman for the Rocky Mountain Food Industry Association, said his group promoted the rule change. The association is a coalition of convenience store and grocery stories. Convenience stores are franchises, which means they are small businesses, too, he said.
Consumers don't want 3.2 beer, Duffy said.
"What happened is on Sundays, our beer sales cratered by at least two-thirds," he said. "It's a major financial hit, and the liquor stores say, 'You can sell something else,' and there's only so many Slurpees you can replace beer with."
B&K Distributing owner Kevin Kaminski confirmed that he was moving less 3.2 beer. He did not take a stance on the bill.
Liquor stores have a monopoly on full-strength beer, Duffy said, but White doesn't think the rules are unfair.
"Liquor stores aren't allowed to sell food; does that make it an unlevel playing field?" White asked. "Why should supermarkets be allowed to sell liquor? : That's how we've written the statutes in Colorado. Liquor stores sell liquor. Food stores sell food."
Possible consequences
Jeanne McEvoy, executive director of the Colorado Licensed Beverage Association, said her group was fighting the legislation. The association represents retailers of wine, spirits and beer. Her group commissioned an independent study of the impacts, she said. Summit Economics in Colorado Springs did the research.
"The impact to our stores, liquor stores will lose approximately 50 percent of their beer sales in the first year alone," she said. "Seventy percent will be lost in three to five years."
That means a permanent loss of 8,600 jobs within three years, McEvoy said, accounting for more than $200 million in wages.
But grocery and convenience stores are suffering now, Duffy said.
"Grocery stores are cutting shifts because they're not stocking beer," he said. "Convenience stores are calling and saying they sent people home on Super Bowl Sunday."
Those stores had their customers sign petitions supporting the change. They presented about 67,000 signatures at the Capitol in Denver.
Jeff Worst, who owns Pioneer Spirits in Steamboat Springs, said he opposed the legislation.
"Basically, all of the liquor stores are owned by people in Colorado, and if you think about it, City Market and Safeway and 7-Eleven and Kum N Go are not owned by people in the state, so those profits would go to larger companies outside the state," Worst said.
Duffy said those stores and franchises put money into the community through charitable donations. He said he expected the bill to get a hearing in a couple of weeks.
"To me, it's who it hurts the most if it does pass, and who will be affected if it doesn't," White said. "It's kind of a balancing."