Green Building
For more information about the city and county's joint Green Building Program, click here.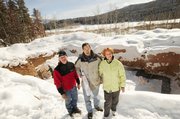 Steamboat Springs — Michael and Jo Ann Mow seem to be setting quite an example as the first applicants to go through the Routt County Regional Building Department's pilot Green Building Program.
When the city of Steamboat Springs and Routt County jointly adopted the program last year, they decided to make compliance voluntary for at least the first year of the program. City planner Bob Keenan said the only mandatory requirement of the pilot program is that applicants attach a signed Green Building Program checklist to their building permit plans, in the hopes that builders will see things that they already are doing or find new ideas to incorporate into their plans.
"The idea is, at least they have to have the checklist in hand and will read it," Keenan said.
Keenan said that although the program essentially is in its test phase, the Mows were so excited about it that they resubmitted their building permit plans after the program went into effect the first of this year so they could participate.
"They're really excited about being a test case : for the Green Building Program," Keenan said. "And we're pretty excited to have them want to go through the process."
The home is projected to score 317 out of the Green Building Program's 321 possible points, according to Keenan. Michael Mow said the home is projected to score a HERS rating of 13, meaning it would be 87 percent more energy efficient than a home built to the minimum specifications of the 2006 International Energy Conservation Code.
Jo Ann Mow said she and her husband, who are building their green home in a Stagecoach subdivision, were inspired by green building tours locally and in Denver and Boulder.
"Green Building Program or not, we would have built our house this way anyway because we want a smart house," Michael Mow said. "We didn't set out to be trendsetters, and we didn't set out to be the first ones to do this. But we do hope to show that you can make a difference. We're not trying to change the world, but we are trying to make a little difference."
Cole Greenwood Construction, of Steamboat, is building the Mows' home. Andy Johnson of DAJ Design, in Boulder, is the architect.
"Andy has been instrumental in designing as green a home as possible for us," Michael Mow said.
Items on the Green Building Program checklist include recycling job-site construction waste, reusing excavated topsoil, using timber milled locally from beetle-killed pines, and installing vegetated roofs.
According to a city news release, the benefits of building to the specifications of the Green Building Program include energy savings of at least 20 percent, increased resale value and a home that is more comfortable and healthful.
For more information about the city and county's joint Green Building Program, call Keenan at 871-8260.