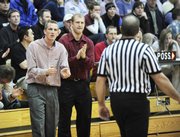 Steamboat Springs — Cody Sherrill and Devin Borvansky don't hesitate to explain what the Steamboat Springs High School boys basketball program did for them.
Sherrill used his experiences in the program to gain confidence and write his college essay, which landed him at the University of Denver. Borvansky used the principles of Steamboat basketball - integrity, hard work, honor and pride, he said - to get a job as a firefighter.
But after several years away from the program - Sherrill was a 2003 Steamboat Springs High School graduate, and Borvansky graduated in 2004 - the two have returned to give something back.
Sherrill and Borvansky now serve as coaches for the junior varsity and freshman teams.
"To come back to Steamboat, it's a great community, but it's this program in particular," Sherrill said. "I can't tell you how much I was able to get and learn from (former) coach (Kelly) Meek and the tradition we have. It's about being Sailors ourselves."
During the past couple of years, Sherrill and Borvansky would attend open-gym basketball sessions three times a week during the summer to play with current and former players. Sherrill and Borvansky knew Meek was retiring, and they agreed to help coach the freshmen. And when the junior varsity coach backed out of the job, the two agreed to oversee that team, as well.
"I really wanted to take advantage of this and be a part of the program," Sherrill said. "The nice thing is at practice, we're both JV coaches and both freshmen coaches. We understand the same things about basketball. He'll say one thing to a player, and I'll be like, 'I was just going to say that.'"
Although the two have limited coaching experience - Borvansky has coached youth basketball and Sherrill coached at-risk youths while a student at DU - their impact already is being felt.
Steamboat boys varsity coach Luke
DeWolfe, who coached under Meek for a season before taking over the program, said Sherrill and Borvansky have been positive additions to the program.
"I think probably the biggest thing they bring is a lot of enthusiasm, excitement and passion for the game," DeWolfe said. "They just have a passion for Sailors basketball."
DeWolfe said their impact has been felt at every level of the program. While they've certainly helped the freshmen and junior varsity players, DeWolfe said Sherrill and Borvansky have been equally valuable to the varsity team.
"It's nice because we're only 23 or 24," Borvansky said. "I mean, we're not much older than these kids. High school for us wasn't that long ago. It's nice because we can be like, 'This is how we did it, and this is what works.' You teach them from your mistakes. We can relate to them a lot."
While Sherrill and Borvansky aren't sure how long they'll coach, they say they'll always be part of the program.
"I'm always connected to the program," Sherrill said. "Coach Meek, when we graduated, called us all coaches. If you're part of this program, you're a coach. It's hard to leave the program. You always know how they're doing. If I'm not coaching next year, I'm sure I'll be on the phone with Devin every day seeing how they are doing."
- To reach Luke Graham, call 871-4229 or e-mail lgraham@steamboatpilot.com