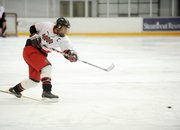 Steamboat Springs Hockey, 2008-09
Dec. 5, Steamboat 3, Aspen 2 at King of the Mountain Tournament; (1-0)
Dec. 6, Steamboat 4, Battle Mountain 0 at King of the Mountain Tournament; (2-0)
Dec. 6, Steamboat 8, Summit 4 at King of the Mountain Tournament; (3-0)
Dec. 12, Steamboat 4, Standley Lake 2; (4-0)
Dec. 13, Steamboat 6, Mullen 1 at Colorado Academy; (5-0)
Dec. 19, Steamboat 3, Chatfield 2; (6-0)
Dec. 20, Lewis-Palmer 4, Steamboat 0; (6-1)
Jan. 9, Pueblo County 3, Steamboat 1; (6-2)
Jan. 10, Steamboat 4, Rampart 1; (7-2)
Jan. 16, Steamboat 4, Doherty 1; (8-2)
Jan. 19, Battle Mountain 5, Steamboat 2; (8-3)
Jan. 23, Steamboat 6, Liberty 0;(9-3)
Jan. 24, Steamboat 3, Fountain Valley 2;(10-3)
Jan. 30, Steamboat 5, Air Academy 2;(11-3)
Jan. 31, Steamboat 6, Valor Christian 0;(12-3)
Feb. 6, Cheyenne Mountain 3, Steamboat 2; (12-4)
Feb. 7, Steamboat 7, Coronado 2;(13-4)
Feb. 13, Steamboat 4, Pine Creek 0;(14-4)
Feb. 14, Steamboat 2, Palmer 0;(15-4)
Feb. 20 state playoffs begin, TBA
Steamboat Springs — It was pretty evident prior to Saturday's Steamboat Springs and Valor Christian high school hockey game how it was going to turn out.
Valor Christian, a first-year school in Highlands Ranch, came into the game winless and showed up with nine players.
Three periods later, Steamboat skated away with a dominating 6-0 win, where it outshot Valor Christian, 52-5.
"What we try and do is set a couple concrete goals," Steamboat coach Jeff Ruff said about how his team approaches a game like this. "In terms of working on our plays, we wanted to move the puck low and keep real disciplined play. So we have some real concrete plays that will help us against any team."
Right from the start, Steamboat established its dominance.
The Sailors got first period goals from Ian Anderson, Lance Ostrom and Cody Fritz in building a 3-0 lead. Steamboat goalie Matt Dawes was the loneliest man on the ice, facing just one shot in the first period.
After a scoreless second period, Steamboat added goals from Kaelen Gunderson, Jake Bearss and Gus Worden to complete the rout.
Even though the competition wasn't up to Steamboat's level, Ruff said he was happy with the way certain things turned out. After Friday's 5-2 win against Air Academy, Ruff said he wanted to see some of his younger players score and gain confidence.
Against the Eagles, the Sailors got contributions from just about every line.
"It felt relieving," said Ostrom, who had been in a bit of a funk offensively. "It helped me. I think in later games it'll really help me. I'm just looking forward to the playoffs. We have quite a bit of confidence, but we just have to keep working hard in practice."
Now Steamboat turns its attention to the final two weekends of play. The team next plays at 4 p.m. Friday at Cheyenne Mountain.
Although the next four games will determine the Sailors' seed heading into the state playoffs, Ruff said Steamboat's jaunt to the state playoffs began Friday against Air Academy.
"I think, as we've proved Friday night, we're ready to play," Ruff said. "I'd like to get a couple guys back : but when we get everybody back in the lineup, I'm confident we are where we need to be."
- To reach Luke Graham, call 871-4229 or e-mail lgraham@steamboatpilot.com