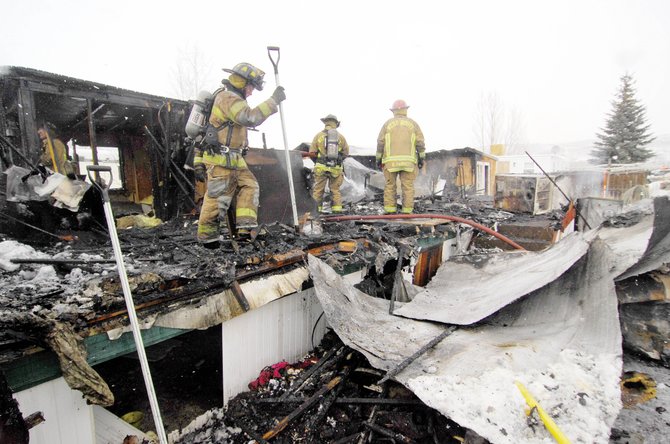 Hayden woman killed in trailer fire
Carmen Northrop, 88, overcome by smoke in mobile home
Updated December 29, 2009 at 10:31 p.m.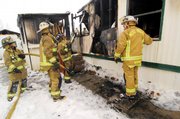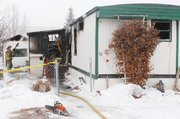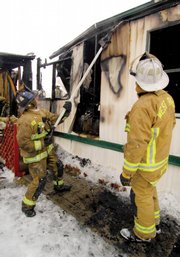 Hayden — An 88-year-old Hayden woman died after her mobile home caught fire Tuesday morning in Hayden.
Carmen Northrop and her husband, Billie Northrop, lived at unit No. 9 in Meadow Village Trailer Park, 1100 W. Jefferson Ave. The fire started at about 11 a.m. Tuesday when Billie Northrop was trying to thaw a frozen water heater pipe in the trailer using a portable propane torch, Hayden Police Chief Ray Birch said.
The torch ignited insulation.
"Insulation goes up like wildfire," Birch said.
Billie Northrop, 78, was unharmed and declined medical treatment.
The trailer is a three-bedroom, one-bathroom single-wide. Car­men Northrop was in a front bedroom and the pipe was toward the rear of the trailer, authorities said. Routt County Coroner Rob Ryg said Billie Northrop told Ryg that he yelled at his wife to get out of the trailer.
"He thinks she may have gone back to get some things," Ryg said. He said Carmen Northrop "was overcome by smoke" and died from smoke inhalation.
West Routt Fire Protection District, Routt County Sheriff's Office deputies and Birch responded to the blaze. Birch estimated the trailer was 30 to 35 years old.
Wayne Eller was one of the first on the scene.
Eller, who owns Sleeping Giant Ranch east of Milner, said he saw "white smoke coming out the window" of the trailer while driving by on U.S. Highway 40 on his way home from Craig. Eller said he turned into the trailer park and saw Billie North­­rop outside of unit No. 9.

"He was down on one knee," Eller said. "He said, 'My wife's in there, my wife's in there.'"
Eller said he and Northrop went inside the trailer. Eller entered through the back door on his hands and knees. Eller said the trailer's walls were deteriorating in the rapidly growing blaze.
"It was already starting to fall in," Eller said. "Things started popping inside."
When Billie Northrop began choking, Eller pulled him out of the trailer and tried to go back inside himself. Eller couldn't reach Carmen Northrop.
Birch praised Eller's actions.
"I thought what he did was above and beyond," Birch said, noting that Eller stayed to help evacuate neighboring residents. "It was outstanding."
Eller sustained minor injuries to one hand. Birch said Eller also had slight burns on the side of his face and head and did all he could.
"You can't walk through a wall of flames," Birch said.
Birch also credited Hayden resident Charlie Epp, who Birch said helped clear residents from the area and console Billie Northrop.
"He jumped right in," Birch said about Epp. "Him and Wayne were two outstanding individuals."
Park manager Julie Grobe said the neighborhood has 62 trailers. The Northrops have lived in unit No. 9 at least since she took over as manager in about 1995 and possibly much longer than that, Grobe said.
Resident Tony Mounce said those who live in the park are a tight-knit community and that he knows the Northrops.
"They're real nice and sweet," he said. "If you need something, a cup of sugar or whatever, they'd be the type to give it to you."
Vinny Scura lives down the street from the Northrops. He described them as "real loving people" who restore antiques. Scura said Billie Northrop often stopped by his home to talk.
A Dec. 22 fire at an Oak Creek trailer also started after a man tried to thaw pipes using a hand-held propane torch. No one was injured in that blaze, but the home owned by Lauretta Martinez was destroyed.

Scura said he is close friends with Martinez.
"We just got done packing a whole bunch of clothes for Lauretta," he said Tuesday.