Photo Gallery
Year in review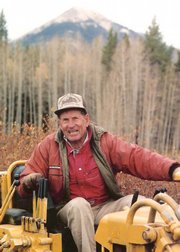 Top 10 stories of 2009
Tragedy and sadness led the news this year in Routt County. While some events — such as stories Nos. 2 and 3 listed below — drew regional if not worldwide interest, the year primarily hit very close to home for local residents. Here's a look at the top 10 stories, by pageviews on www.steamboatpilo..., from Jan. 1 to Dec. 20.
1. "Corna death ruled suicide"
May 20; 31,339 pageviews
2. "Boulder falls in Snowmass Canyon, kills driver"
Aug. 17; 28,785 pageviews
3. "Seven-legged calf born"
May 22; 21,202 pageviews
4. "Slopeside owner Chris Corna dies"
May 18; 15,653 pageviews
5. "Bill and Patrick Rooney died Sunday in plane crash near YVRA"
Jan. 13; 15,049 pageviews
6. "Corna death under investigation"
May 19; 14,185 pageviews
7. "Green's family thankful for community support"
June 30; 11,936 pageviews
8. "Plane crash kills two near Hayden"
Jan. 11; 9,509 pageviews
9. "Community grieves, hopes as search for Rebecca Green is scaled back"
June 16; 6,681 pageviews
10. "Examiner confident of suicide ruling"
May 21; 8,551 pageviews
Steamboat Springs — Routt County took one punch to the gut after another in 2009, a year marked with sadness, tragedy, financial struggle and, ultimately, resilience in a community that many say has nowhere to go but up.
The year began with the tragic Jan. 5 death of U.S. Army Sgt. 1st Class Richard Lopez after an altercation outside of a restaurant in downtown Steamboat Springs. Tragedy struck again less than a week later, when Bill and Patrick Rooney died Jan. 11 in a plane crash near Yampa Valley Regional Airport in Hayden. In February, the community lost ski pioneers John Fetcher and Jim Temple within days of each other, both from natural causes, before a spring that saw city and county governments institute employee furloughs and cost-cutting measures as local revenues continued to plummet during the economic recession.
In the late spring and summer this year the skies grew even darker over Steamboat, as Slopeside Grill owner Chris Corna died May 18 in Port Chester, N.Y., and local speech pathologist and youth volunteer Rebecca Green fell into the rushing waters of Fish Creek on June 13 while trying to catch her 8-year-old son, Kade, who had slipped on a rock and fallen in himself. Rescuers retrieved Kade later that day, but a two-week search for Green ended with the recovery of her body June 30.
The loss of cherished community members, from causes natural and tragic, continued through the summer. Their names and stories are too many to properly honor here, but each loss struck Routt County residents in their hearts.
Steamboat resident Scott Ford commented on the series of blows.
"I don't think these incidents happen here more than in any other community," Ford said earlier this month. "But it hurts more because we know each other. … We value greatly the sense of community we have in this area, but fundamentally, that means we are interconnected with each other's lives. It allows us to share in great joy and great sadness."
Ford said however trying and painful it can be, that sense of sharing in one another's lives is what makes him love the Yampa Valley the way he does.
"I would not want it any other way," he said.
Brighter side
The year of 2009 also saw many victories and new beginnings in Routt County. 
At Gardner Field, the Steamboat Springs High School football team sailed undefeated through the Western Slope League season and made a thrilling run to the Class 3A state championship game. On the ski slopes, U.S. Ski Team freestyle aerialist Ryan St. Onge, a former Steamboat Springs Winter Sports Club member, won gold in March at the 2009 FIS Freestyle Ski World Championships in Inawashiro, Japan. That victory followed three gold medals and a bronze for Americans at the 2009 Nordic FIS World Championships in Liberec, Czech Republic. Steamboat's Todd Lodwick brought home two of those golds, and the third gold and the bronze went to Bill Demong.
St. Onge finished third in the U.S. Olympic trials Thursday in Steamboat and said his focus is on competing in the 2010 Winter Olympics in Vancouver.
City and county officials are turning their eyes toward next year, as well, and taking a positive view of future finances after a difficult 2009.
"It has been one of the most challenging years of my professional career … just from the fiscal situation," said Wendy DuBord, Steamboat's deputy city manager. But she added that cost-cutting measures brought on by an 18 percent budget cut this year have shown the integrity and work ethic of city staff.
"I have been encouraged by the way the staff has kind of sucked it up and continued to provide services," DuBord said. "The public has been very understanding. … There are some silver linings. Certainly, we hope that 2010 is a better year financially than 2009."
Bob Litzau, the city's assistant finance director, said "there's always a chance" of a financial turnaround next year, but more realistically, he's hoping Steamboat can tread water.
"If we can hold our own through 2010, I think we'll be doing well," he said.
City Manager Jon Roberts took the reins at City Hall in Feb­ruary. His first year on the job included ongoing debate about the proposed Steamboat 700 annexation, which became a key issue in a City Council election that saw the re-election of Cari Hermacinski and Walter Magill along with the swearing in of new member Kenny Reisman and the return of former council member Jim Engelken. This year also saw the introduction of medical marijuana dispensaries to Steamboat and contentious discussion about where to house federal postal services. Those issues will continue into next year.
Roberts noted that the city did not sap its reserves while cutting an additional 10 percent from its 2010 budget.
"The city is actually financially stronger than it was a year ago because our expenditures have been reduced, but our reserves have not. I'm very satisfied with that outcome," Roberts said.
He said the city has seen two examples of success in recent weeks. Roberts called a successful petition drive to put Steamboat 700 to a public vote "a tremendous example of democracy," and said this month's issuance of $17.5 million in bonds for redevelopment projects at the base of Steamboat Ski Area is "also a tremendous achievement in these tough economic times."
City residents will vote on Steamboat 700 in a mail-only ballot that concludes March 9. In April, work will continue on the sweeping public promenade at the ski base, coinciding with the Colorado Department of Transportation's repaving project on U.S. Highway 40 through downtown.
Tracy Barnett, manager of Mainstreet Steamboat Springs, said the CDOT construction that began this fall, coupled with the recession, served as a stern reminder for business owners to take nothing for granted.
"I've been here 35 years, and seen a couple of downturns like this economically," Barnett said. "After a while, you just kind of roll with the punches. … I think it was a reality check, (reminding us) that we have to keep our nose to the grindstone."
Mary Alice Page-Allen, the Housing Authority's program/asset manager and sole full-time administrative staffer, said that while this year has been about "survival" for many, it also has been "a very educating year" that has taught people to appreciate simple, but very important, parts of life heading into 2010. For Page-Allen, that appreciation comes after struggles not just professionally, but personally — Rebecca Green was her grandson's speech pathologist, meaning that like many in the county, Page-Allen has a personal connection to someone lost in 2009.
"You're thankful for the sunshine and that you know where your next meal is coming from," Page-Allen said. "Those are good things."