About the club
Since opening in June, the Boys & Girls Club of Steamboat Springs has 607 enrolled members, unit director Heather Martyn said.
The club offers an after-school program at the George P. Sauer Human Services Center on Eighth Street for 6- to 18-year-olds from 3 to 7 p.m. daily. The after-school program is free for those who have paid the $10 membership free.
The club's School Days Off program, during select school holidays, runs from 7:30 a.m. to 6 p.m. at a cost of $1 per hour or $10 per day.
Martyn said because of the economic recession, the club hasn't received any funding from the Boys & Girls Club of America. She said the Steamboat chapter relies on grants and donations to operate. It has a $350,000 annual budget.
Donations can be mailed to P.O. Box 776410 or dropped off at the club, 325 Seventh St. For more information, call the Boys & Girls Club at 970-871-3160.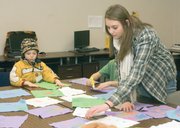 Steamboat Springs — Aubrie Moothart couldn't be distracted.
The Soda Creek Elementary School fourth-grader was busy with a purpose. Using a purple marker, she drew a picture of a present and wrote "Merry Christmas" on a green felt square.
Her square will be sewn with many others to create quilts that will be delivered next month to children at orphanages in Agua Prieta, Mexico.
"I drew this because of Mexico," Aubrie said. "They're going to get presents from us. They don't get much for Christmas. When we put it all together, it's going to be a Christmas present for them."
Aubrie and about a dozen other children who attend the Boys & Girls Club of Steamboat Springs have been working once a week for the past month to create designs that adorn the green, purple, blue and white squares that eventually will become the quilts.
It's part of a project created by Boys & Girls Club junior staff member Laina Weinman, a junior at Steamboat Springs High School.
Weinman is a member of the high school's Rotary Interact Club, which is affiliated with the Rotary Club of Steamboat Springs. With six other members of Interact, she will deliver Christmas presents from Jan. 15 to 17 to the children at the orphanages in Agua Prieta.
But she wanted to do something more.
"I just was thinking about something I could do to incorporate the kids at the Boys & Girls Club that would be fun for them," she said. "I sort of put it out there, and the kids liked it, so we put it into action. I also thought the quilts would allow the kids to personalize the gift a little more."
When Weinman approached Boys & Girls Club Director Hea­ther Martyn with the idea, she didn't hesitate to say "yes."
Martyn said the project meshed with the club's desire to include an international component with some of its activities.
"We really wanted to bring an international focus to the club," she said. "We think it's a really great way to bring the three clubs — Boys & Girls Club, Rotary and Interact — together, as well as bringing a global awareness to the kids."
The Rotary Club has been working for the past two or three years with the Rotary Club in Agua Prieta, Rotarian Winnie De­lliQuadri said. She said the Rotary Club would buy and ship presents for about 80 children in three orphanages.
In the past, the Rotary Club would ship the presents to the Agua Prieta club, which would then deliver them to the orphanage. But Weinman wanted to expand the program, DelliQuadri said. Weinman wanted to involve the Interact Club, which could buy presents specific to each child and deliver them.
DelliQuadri said Wei­nm­an wrote a grant to the Rotary district and was awarded $1,000 to purchase gifts for the children in Agua Pr­ieta. DelliQu­a­dri said she was told that it was the first time an Interact member made a grant request for district Rotary funds.
"Personally, I'm b­lown away by it," she said. "I think it's amazing to have a high school kid who's passionate and motivated enough to put the work in to realize her visions."
The Rotary Club raised money to send Weinman and the other Interact Club members to deliver the presents.
Weinman, who also teaches the Worldview Program at the Boys & Girls Club, said the project worked out nicely because the children chose Mexico as their first country to study.
The children finished creating their squares last week. Many drew flowers, rainbows, Christmas trees and presents. One square had "Feliz Navidad" written on it.
Christoper Fi­s­her, who attends preschool at Steamboat Springs Montessori, drew a skier riding beneath the clouds on his felt square.
Aubrie said it made her feel happy to help the children in Mexico. Emily Schneider, a first-grader at Lowell Whiteman Primary School, said helping make the quilt also made her feel "really happy."
"My mom told me that orphanages are where people don't live with their mothers," Emily said. "I made a Christmas tree and a present because they will like it."
Weinman said she planned to sew the squares together and add additional fabric to complete the quilts this week. She plans to show the students the finished products before she leaves to deliver them and the presents to the children at the orphanages in Mexico.
Weinman is interested in studying international relations in college, but for now, she's having fun teaching the children who attend the Boys & Girls Club about different cultures.
"I just really enjoy helping other people and sort of incorporating my interests into the projects I do," she said.