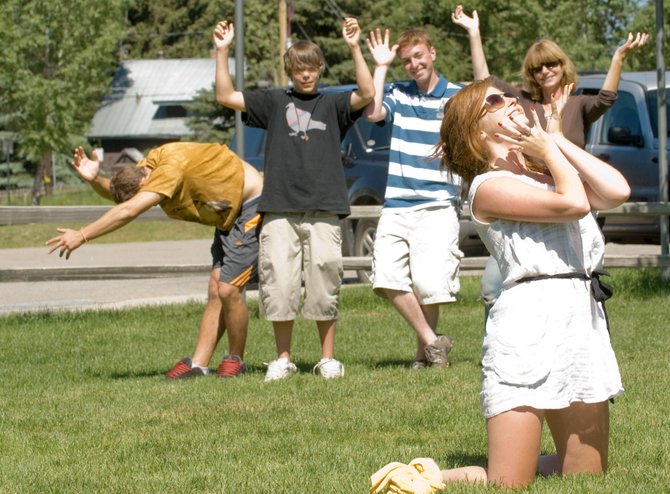 Picnic Theatre Festival accepting plays
Outdoor event director looking for new work in writing contest
Saturday, December 26, 2009
Get involved
Picnic Theatre Festival writing competition guidelines:
Entries in Great American Laughing Stock Co.'s first playwriting competition are due March 1. Each entry should include:
■ Comedy or light drama suitable for an outdoor setting
■ Running time of about an hour with no intermission
■ Roles for eight to 10 characters
■ Minimal prop and costume requirements
■ Low technological requirements
(the plays are set outdoors, with no lighting, electricity, stage, etc.)
■ Content appropriate for all ages
■ Elements of New Zealand or Pacific Island culture, if possible
■ Send play manuscripts to: GALSCO, P.O. Box 770181, Steamboat Springs, CO 80477.
Source: Great American Laughing Stock Company Web site, www.galsco.org
Steamboat Springs — As it enters its third year, the Picnic Theatre Festival is looking to branch out to up-and-coming writers.
A new writing competition invites playwrights from Colorado and elsewhere to submit a comedy or light drama that's about an hour long and appropriate for all ages to be considered for the three-week outdoor theater festival held in Steamboat Springs, said Picnic Theatre Artistic Director Stuart Handloff.
"The reason that we're looking for someone new and different is because this festival is something new and different," Handloff said. "It's outdoors, it's in repertory, it includes actors from New Zealand and New Zealand island culture, and it includes American actors, as well."
The deadline for entry is March 1. Festival organizers will read all the plays and choose a winner at the end of March, Handloff said.
Picnic Theatre Festival is a project of Handloff's Great Am­­erican Laughing Stock Co. The annual summer event brings actors and ideas from Steamboat Springs and New Zealand together for a series of adaptive outdoor performances. The plays rotate through weekend evenings for three weekends or are presented "in repertory."
At the second annual Picnic Theatre Festival in July, Handloff and his acting troupe featured "The Eccentricities of a Butter­fly," an original play by local writer Dangy McKinley based on the adventures of Audrey Rose, a character she uses frequently.
McKinley came on board when Handloff ran into her at an art gallery and asked whether she'd be interested in writing her first play for the festival, McKinley said. She was excited to interact with the cast in rehearsals and to take part in the audience reaction during performances, she said.
McKinley said she was impressed with the actors and "how much they brought to the table and how they were able to really shape what was a work in progress into something that reflected some of their views and some of my views." She plans to submit a play to the contest, likely something more comedic than "Butterfly," she said.
Handloff hopes to make finding a new playwright an annual tradition and eventually to include playwrights from New Zealand, he said.
"Since one element of the theater festival is cultural exchange and cultural development, learning from each other, I think this is certainly a logical step in that process, as well," Handloff said.
Each Picnic Theatre Festival lineup features a William Shakes­peare adaptation, a musical and an all-ages comedy or light drama. Play writing contest submissions are for the all-ages comedy/light drama category.
Possible selections for the 2010 festival lineup in the other categories include a staging of Shakespeare's "A Midsummer Night's Dream" and a shortened version of the Stephen Sond­heim musical "Into the Woods," Handloff said.
The third annual Picnic Thea­tre Festival is scheduled to run Friday, Saturday and Sunday evenings from July 9 to 25 in Spring Creek Park. Handloff also hopes to bring the festival back to Bud Werner Memorial Library and the Yampa River Botanic Park for special performances, he said.