Photo Gallery
Nordic combined, 2010 U.S. Olympic Team Trials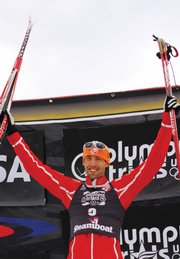 America's top Nordic combined athletes gathered in Steamboat Springs on Dec. 23 to compete for a berth on the U.S. Winter Olympic team.
Nordic combined results
Johnny Spillane, Steamboat Springs (3, 1) 25:06.0
Todd Lodwick, Steamboat Springs (2, 2) +3.0 seconds
Bill Demong, Vermontville, N.Y. (1, 4T) +12.0
Brett Camerota, Park City, Utah (4, 8) +2:26.0
Bryan Fletcher, Steamboat Springs (8, 7) +2:26.0
Taylor Fletcher, Steamboat Springs (11, 4T) +2:35.0
Nick Hendrickson, Park City, Utah (12, 3) +2:43.0
Carl Van Loan, Webster, N.H. (6, 9) +3:47.0
Brett Denney, Steamboat Springs, (13, 6) 3:50.0
Alex Glueck, Steamboat Springs, (5, 11) +3:52.0
Steamboat Springs — By the time Johnny Spillane crossed the finish line of Wednesday's 10-kilometer cross-country race, the hometown crowd filling the grandstands at Brent Romick Rodeo Arena had reached a fevered pitch.
Just moments before, Steam­­boat's Spil­lane and Todd Lodwick were streaking toward the finish line in a sprint, and Bill Demong, who lived and trained here until 2003, was just a few seconds back.
"We are all so close that for sure anyone could have won," Spillane said.
But it was Spillane who crossed the finish line first, and a few minutes later, the Steamboat Springs skier was surrounded by a sea of reporters asking him about a frustrating summer on the sidelines and his subsequent return to the form that earned him a gold medal at the World Championships in 2003.
Spillane, who spent two months this summer recovering from a pair of knee surgeries, showed no signs that the injury had slowed him down as he secured a spot in the 2010 Winter Olympics by winning the Nordic combined Team Trials event at Howelsen Hill. Wednesday's win, combined with several top finishes on the World Cup tour this season, indicate that the Steamboat Springs native will be a medal threat come the February games in Vancouver, British Columbia.
Spillane overcame a 9-second deficit after the jumping portion of Wednesday's trial en route to claiming victory in front of one of the largest hometown crowds since Steamboat Springs hosted its last World Cup in 2002.
Nordic combined is an Olympic event based on two Nordic disciplines — ski jumping and cross-country skiing. The jumping portion comes first, and each athlete's jump score is used to seed the cross-country race. The jump winner is always the first skier out in the cross-country race.
As expected, Wednesday's competition was fierce between longtime U.S. Nordic Combined Team veterans Spillane, Lod­wick and Demong. All three are former world champions and Olympic veterans.
Demong jumped 120.5 meters to win the jumping portion of the competition with a score of 123.8 points. Lodwick recorded the longest jump at 123 meters, but he lost style points after he struggled with his landing. He finished in second place and started the cross-country race 1 second behind Demong. Spillane was third after the jump.
"I just wanted to get up to those guys pretty quickly," Spillane said about the 10-km cross-country portion. "I got up to them quick and rested for about a lap and then went to the front and pushed the pace a bit. In the fourth lap, I really wanted to push it because I knew those guys had been skiing behind me for a ways, and I wanted to make sure that when we got to that last hill they were as tired as I was."
Lodwick's plan was to ski behind the leaders for most of the race and look for his opportunity to take the lead near the end.
"I wanted to be the caboose, not the engine," Lodwick said. "On the final lap, I was in third place and was waiting for Billy (Demong) to go. It didn't happen, so by the time I made my move, it was too late."
Spillane held off Lodwick at the finish and completed the course in a time of 25 minutes, 6 seconds. Lodwick finished three seconds back, and Demong was third, crossing the finish line 12 seconds behind Spillane. Brett Camerota finished fourth after beating out Steamboat's Bryan Fletcher at the finish.
"We knew it was going to be like a mass start with all of us going out together," Demong said. "Johnny and I switched leads a few times, and Todd was sitting behind waiting for the end. Johnny, amazingly, was able to save enough energy despite leading those last couple of laps to pull away on the last hill, and neither Todd nor I could catch him. It was pretty cool. Johnny has been skiing really strong on the World Cup, and for him to be able to do it at home is awesome."
The Nordic combined race was the first of two Olympic team qualifiers to take place Wednesday in Steamboat. The top American men's and women's moguls skiers battled for Olympic berths at the Steamboat Ski Area later in the day. Freestyle aerials skiers hit the jumps this morning, also at Steamboat Ski Area. That event is scheduled to begin at 10 a.m.