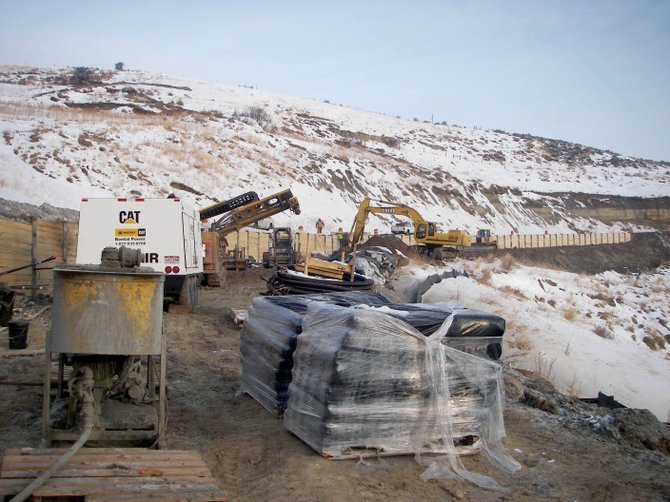 Cog Road work ending soon
$1.2 million project shores up mudslide problems
Tuesday, December 22, 2009
Steamboat Springs — The construction superintendent overseeing $1.23 million in repairs to the Cog Road north of Hayden said the work is going well and should be finished by mid-January.
"We haven't had many issues with the exception of groundwater," said Scott Alexander, of American Civil Constructors.
The repairs to a 650-foot stretch of the county road necessitate extensive drilling, and when the drill holes fill with groundwater they must be cased, a process that doubles the time required for each step in the repair, Alexander said.
B&Y Drilling is doing much of the work on the project.
The project initially was scheduled to be completed by the end of this month, but given the unexpected setbacks, county officials are content with the pace of the work.
"We're real pleased with their progress," Routt County Road and Bridge Director Paul Draper said. "They had two delays in the delivery of steel, and when a part broke on the drilling rig they had to wait 10 days for it to arrive from Germany. They've asked us for a contract extension (through the end of January), and we're very receptive but haven't approved it yet."
The Cog Road climbs steeply above the Yampa Valley and was closed to one lane after the winter of 2007-08 after a mudslide pushed the pavement down the hill.
The repair necessitates driving vertical supports called soldier piles 35 feet into the side of the road at intervals of 8 feet, Alexander said.
Each soldier pile is mated with an anchor tether that is inserted into a horizontal hole drilled 70 feet into the hillside above the road and anchored into bedrock with grout. The grout consists of a slurry of cement and water, minus the aggregate typically added to concrete.
The solider piles are supported with a preliminary wall of 4-by-4 timbers made from locally milled beetle-killed pine. The wall will ultimately be capped with steel re-bar and Shotcrete, Draper said.
Alexander said half his crew would take off this week while the remainder stay in Routt County to continue the work. They'll knock off Christmas Eve and Christmas Day. The two teams will alternate during the New Year's holiday.
"The solider piles are complete now, and unless we run into something unforeseen we should be done by the second week in January, or maybe the third week," Alexander said.
Routt County Commissioner Doug Monger said he's happy to see that a permanent fix for the troublesome Cog Road is within sight.
"This has been a huge thing for people that live up on the Cog," Monger said. "Even though we had to dig into reserves this year, this was a project we had to get done."
The county received a grant of $582,00 from the Colorado Dep­artment of Local Affairs to help pay for the repair. It is funding the balance of $648,000.