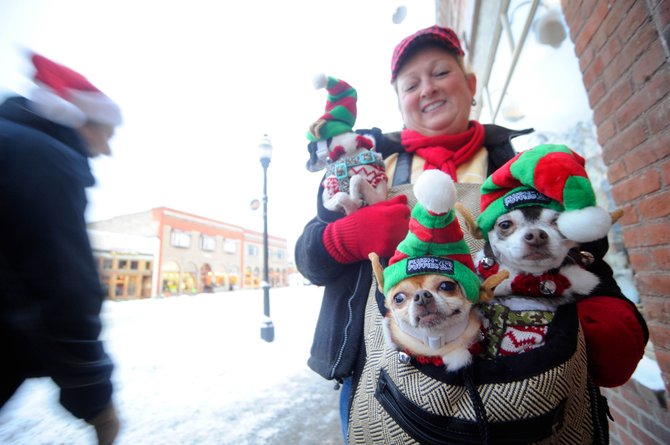 Merry Mainstreet attracts families
Parade, music, shopping featured at 2nd annual downtown event
Sunday, December 13, 2009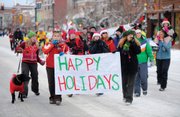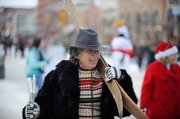 Steamboat Springs — Marianne Capra and her two daughters, Wren and Lucy, tried to come to the Merry Mainstreet holiday celebration in 2008.
They made it about two blocks down the closed section of Lincoln Avenue before a heavy snowstorm drove them back home.
In their second Merry Main­street attempt Saturday afternoon, they made it a little longer, wrapping up a day of holiday shopping at downtown businesses by watching the inaugural Merry Mainstreet parade.
Wren, 4, and Lucy, 21 months, wore dark red Christmas outfits and jumped at every piece of candy that hit Lincoln Avenue during the 20-minute procession that featured members of organizations including the Steamboat Springs High School football team, Routt County Riders bicycle club, Heeling Friends therapy dogs and Mainstreet Steamboat Springs.
"The weather is perfect this year, and we wanted to support downtown businesses financially," Marianne Capra said.
Merry Mainstreet, now in its second year, featured a parade, visits with Santa, a pub crawl, caroling, gingerbread house displays and a window-decorating contest from 4 to 7 p.m. Saturday.
Mainstreet Steamboat Springs puts on the event to support downtown merchants, have fun and put people in the holiday spirit, Mainstreet board president Towny Anderson said. Anderson was one of several Mainstreet representatives marching at the front of Saturday's parade with vintage ski gear in hand.
Joe Kboudi, owner of downtown music and gift store All That Jazz, said he was hopeful for a boost in shopping traffic during Saturday's celebration.
"I consider it a kickoff for the holiday season. It puts people in the Christmas mode, and they start thinking about their holiday lists," Kboudi said.
Steve Kennedy, owner of The Homesteader kitchen store, said he hoped shoppers would come into the business and see potential gifts during Merry Mainstreet, then come back and buy them closer to Christmas. Kennedy said he feared a drop in purchases during the event itself, which closed Lincoln Avenue from Fifth to 10th streets. The Homesteader is on Lincoln Avenue between Eighth and Ninth streets.
Not long after the parade, a line of children and parents waiting to visit with Santa stretched from the middle of the Routt County Courthouse lawn to the corner of Sixth Street and Lincoln Avenue.
Chaelle and Dave Ince and their sons, Henry, 4, and Eli, 1, planned to get in that line when the parade ended.
"We came last year, too, and I'm sure we'll do it every year, as long as we're in town for the holidays," Chaelle Ince said.