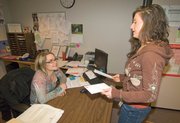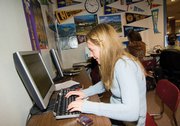 Upcoming workshops
■ Steamboat
2 p.m. Dec. 16 and 17: Local scholarships prep for juniors and seniors
6 p.m. Jan. 13: Financial aid information for juniors and seniors and their parents
6 p.m. Jan 28: Financial aid information for juniors and seniors and their parents
All workshops held in Steamboat Springs High School media center
■ Hayden
6:30 p.m. Jan. 27: Financial aid night for seniors and their parents at the high school
■ South Routt
6 p.m. Dec. 17: Panel discussion with Soroco alumni open to all students and their parents in the high school commons area
6 p.m. Feb. 4: Federal financial aid follow-up meeting for students and parents at the Soroco administration building
Online
■ Steamboat
For information about scholarships, testing and upcoming events, go to Danica Moss' Web page at http://dmoss.pbworks.com.
■ Hayden
For information about local scholarships and to see announcements, go to www.haydenschools.org and click on the "HHS Counselor" link.
■ South Routt
Counselor Lisa Omori has encouraged her students to visit http://collegeincolorado.org for statewide resources
Steamboat Springs — In a perfect world, Devin Wilkinson would attend Colo­rado College in Colorado Springs, play intramural hockey and try to walk on to the Division III school's girls volleyball team.
Knowing it's not a perfect world, Wilkinson is keeping her options open. She's applying to five colleges and for a number of different scholarships.
Like Wilkinson, many of the seniors at Steamboat Springs High School are doing the same.
Danica Moss, the high school's college and career counselor, said it's crunch time for students to complete and submit college and scholarship applications. It can be a hectic, stressful process for many students.
"Kids are really starting to push," she said last week.
Wilkinson has applied to the University of Denver and Lewis & Clark College in Portland, Ore. She soon hopes to send off applications to The Evergreen State College in Olympia, Wash.; Reed College in Portland, Ore.; and Colorado College.
"I had a lot more schools when I started," Wilkinson said. "It was stressful thinking about applying to all of them. When I narrowed it down to those five, it's been a lot easier."
Moss, who's in her first year as the high school counselor in Steamboat after six years as a counselor in the Hayden School District, estimated that about 10 percent of the seniors applied for early decision acceptance this past fall and are just starting to receive their acceptance letters. She said most Colorado higher education institutions don't have application deadlines until January.
Starting early
In spite of the January deadlines, Moss said it's still important to start early. And that means beginning the work during students' sophomore and junior years.
Moss said if students start preparing for college — whether that's researching schools or thinking about what they'd like to study — as sophomores and juniors, they'll experience less anxiety by the time they're seniors.
"I started this year," senior Ty Hvambsal said. "I was told to start over the summer, and that didn't really happen."
Senior Johnathan Ricker said his older brother, who attends Colorado State University, advised him to get a head start on preparing for college, but he waited until this year, too.
Nicole Dolence, a first-year counselor at Hayden High School, said she set a goal for the seniors to get all their applications sent in before the rapidly approaching holiday break.
She said the deadline was established so the seniors wouldn't have to worry about applications when they returned to school after the new year. But Dolence said they're also trying to instill that don't-wait-until-the-last-minute mentality in students.
When students leave to attend college, no one will bug them to manage their time, Dolence said.
She has created an acceptance board at the high school to post the letters students receive from schools. So far, she said, a couple of students who applied for early decision have been accepted to college.
"In those moments, it was like, 'That's why I do this job,'" Dolence said. "To see kids who thought they may not have gotten in is really cool. It's an exciting time."
Staying closer to home
Moss said she didn't think the economic recession was affecting the number of students planning to attend college but that it has impacted which schools they apply to.
"I think more kids are looking at in-state schools, and affordability is a major factor when kids are choosing their schools," she said.
Last year, Steamboat Springs High School sent 87 percent of its graduates on to post-secondary schools or training. Sixty-eight percent of the Class of 2009 are attending four-year colleges or universities, 19 percent enrolled in community colleges or trade schools, and 3 percent entered the military. Ten percent have entered the workforce or are doing something else, according to statistics compiled by the high school.
Moss said it's too early to determine what this year's senior class of about 160 students will do.
Of this year's Hayden High School senior class of 42 students, Dolence said 19 have applied to four-year institutions, 19 have applied to attend community colleges or trade schools, and one student plans to enter the military.
Dolence said she's also encouraging students to visit campuses.
Last month, Soroco High School counselor Lisa Omori and two staff members took a group of 22 of the 29 seniors on an overnight trip to visit the University of Wyoming, Colorado State University, the University of Northern Colorado and the University of Colorado at Boulder.
Taking students on college trips is something Soroco has done in the past, but Omori said they've never taken so many students or gone to as many schools. The trip, funded through a grant, paid for students who fit certain financial criteria.
She said the trip was intended in part to get some students, who may be the first generation in their families to attend college, and their families more involved in the process.
"The sooner they know where they're headed, I think the sooner they can get the financial piece in place," Omori said.
Scholarships
On Monday, Moss met with students in Julie Brownell's college and career prep class to discuss the portfolios students will create to apply for local scholarships.
The portfolios will include the information students will need to "market themselves," Moss said. They'll include a cover sheet, résumé, transcript, letters of recommendation, college essays and the scholarship application.
She said starting early also is important for local and college scholarships and federal financial aid programs.
"With the economy being so tight, not all of our local scholarships are being donated, so the kids have to step it up," Moss said. "Because of that, colleges encourage applying early so (students) will have a better shot at earning scholarships."
Omori said she tells students not to worry about what classmates, who are applying for the same scholarships, have done in the past. She said different scholarships identify different types of students.
She used the analogy, "You can't win if you don't play" to describe her approach to encouraging students to apply for as many scholarships as possible.
"It's really important," Omori said. "Even a $500 scholarship may not sound like a lot. We've seen students go to college the first year for free because of all the local scholarships they received. They add up quickly, and we really encourage it."
Because applying for scholarships is so competitive, Dolence is pushing Hayden High School students to begin volunteering when they're sophomores and juniors.
"Almost every scholarship has something to do with volunteering and volunteer hours," she said. "When it comes to filling out scholarships, they'll have something to put on their résumés."
Wait and see
Moss, Dolence and Omori said most student efforts to apply for local scholarships will occur after Christmas break.
Ricker, the Steamboat Springs High School senior, said he's applying for a number of different local scholarships to help pay for tuition to University of Denver, Colorado State University or California Polytechnic State University in San Luis Obispo.
"It's free money," Ricker said. "Why not?"
Hvambsal said he's at the point where he's waiting to hear back from schools. Although Hvambsal said he probably could attend college without scholarships, earning some would lift a huge weight off his back.
"For me, it kind of depends on what scholarships I get," Hvambsal said. "Whatever gives me the most is where I'll go."
Wilkinson said she wants to attend college to further her education and continue learning. She's the first of her parent's children to attend college, so it's imperative she earn as much financial aid as possible
"Scholarships are really important," she said. "Colorado Col­­lege is $50,000 a year. I have a brother and a sister."