TV18
■ Girls basketball
Watch a replay of the Sailors' Shoot-Out games on Steamboat TV 18 at 8
p.m. Monday.
■ Boys basketball
Watch a replay of the Sailors' Shoot-Out games on Steamboat TV18 at 8
p.m. Wednesday.
Shoot-Out results
Shoot-Out results
■ Girls bracket
Conifer 92, Green River, Wyo. 35
D'Evelyn 66, Steamboat 47
Castle View 66, Summit 22
Rock Canyon 61, Skyline 29
Today's games
Summit vs. Skyline, 10 a.m.
Castle View vs. Rock Canyon, 11:45 a.m.
Steamboat vs. Green River, 1:30 p.m.
Conifer vs. D'Evelyn, 5 p.m.
■ Boys bracket
Rock Canyon 70, Liberty 68
Castle View 62, Steamboat 55
Green River 60, Moffat County 51
D'Evelyn 73, Summit 17
Today's games
Moffat vs. Summit, 10 a.m.
Green River vs. D'Evelyn 11:45 a.m.
Liberty vs. Steamboat, 3:15 p.m.
Rock Canyon vs. Castle View, 6:45 p.m.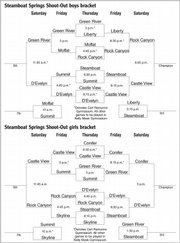 Steamboat Springs — The Steamboat Springs High School boys and girls basketball teams each dropped second-round games in the Steamboat Springs Shoot-Out on Friday, relegating the Sailors to play for third place.
The girls lost to D'Evelyn, 66-47, and the boys fell to Castle View, 62-55.
In the girls game, Steamboat and D'Evelyn battled through the first quarter before the Jaguars hit a run in the second.
Up 13-9 to begin the quarter, D'Evelyn — aided by eight Steamboat turnovers — started the quarter on a 9-0 run to take a 22-9 lead with 5 minutes, 18 seconds left in the first half.
D'Evelyn used its defense to create easy opportunities. The Jaguars forced 29 Steamboat turnovers and got contributions from nine players.
"Our game plan was to not let them dictate what we do," Steamboat coach John Ameen said. "The turnovers obviously were harmful. But when we didn't turn it over, we played right into their hands."
Steamboat had cut the lead to 39-24 early in the third quarter before D'Evelyn again went on a 10-0 run to push its lead to 49-24.
"Take away a stretch run in the second quarter, and we play them fairly evenly," Ameen said. "I told them that. I'm not irate, but I'm obviously not happy. You see the glimpses and stretches and that shows you how we can play."
Steamboat's offense seemed out of rhythm again for the second straight night. While the turnovers certainly contributed to it, Steamboat's possessions were often short.
"What it comes down to is just playing smart and going back to fundamentals," said junior Hannah Moore, who paced the Sailors with 17 points. "At times, we got scatter-brained. We just need to have patience."
Junior Tara Spitellie kicked in 11 points for Steamboat.
In the boys game, Steamboat played a bigger and more seasoned Castle View team well for three quarters before something happened in the final frame.
Tied at 37, Castle View shot 10 of 13 from the field in the fourth quarter, outscoring Steam­­boat, 25-18.
Steamboat trailed by as many as 11 points in the fourth quarter before extending the game near the end.
The Sailors, however, came out and looked like the more experienced team.
After Castle View took a 13-10 first quarter lead and led 15-11 at one point, Steamboat finished the half on a 17-7 run to take a 28-22 lead into halftime.
A big bright spot for Steamboat was the play of junior forward Randall Nelson and sophomore forward Eric Trou­sil.
Despite giving up several inches and years of experience, the two played admirably, combining for 13 points and 11 rebounds. 
"We got past the mental part that they'd be better than us," Trousil said. "I feel more comfortable each game about what I can do."
But in the fourth quarter, Castle View started to expose Steamboat's 2-3 defense and get inside the zone. The team started the quarter on an 11-2 run to take a 48-39 lead at the 4:46 mark of the fourth quarter.
Despite the loss, Steamboat coach Luke DeWolfe said his team made big strides Friday.
"There is no such thing as a good loss, but we took some strides in the right direction," he said. "This is one we can learn from. I really feel like we're on the right track."
The girls play at 1:30 p.m. today against Green River, Wyo., and the boys play at 3:15 p.m. against Liberty. Both games are in the Kelly Meek Gym­na­sium.