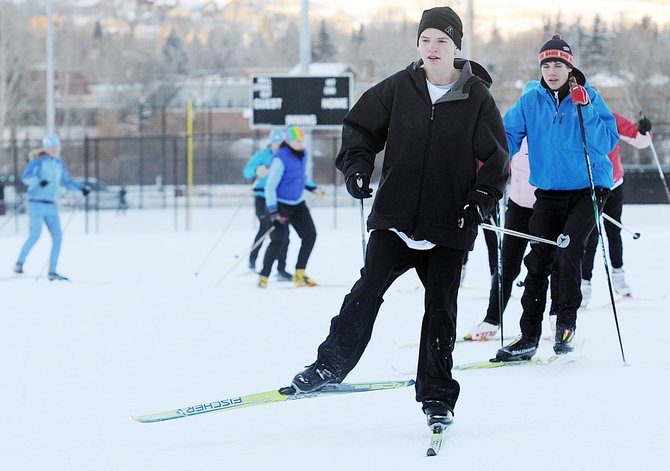 Steamboat Nordic team looking for a fast start
High school Nordic squad short on experience
Friday, December 11, 2009
SSHS Nordic schedule
Saturday at Leadville
Jan. 9 at Carbondale
Jan. 23 at Vail
Jan. 30 at Devil's Thumb
Feb. 4 at Steamboat
Feb. 13 at Aspen
Feb. 18 and 19 at state in Frisco
Steamboat Springs — The Steamboat Springs High School Nordic skiing team doesn't return a lot of skiers experienced in the high school ranks, but that won't do much to lessen the team's expectations for the coming season.
The Sailors officially get under way this weekend with a race in Leadville, and there's no doubt where they plan to be come the Feb. 18 and 19 state championship races in Frisco.
"Steamboat is a town full of elite athletes, so we have a lot resting on our shoulders," team captain Linnea Dixson said.
"They don't call us Ski Town USA for no reason," co-captain Martha Anderson added quickly.
Steamboat's quest to maintain its spot near the top of the high school rankings starts Saturday.
There, first-year coach Emily Lovett said she expects a strong performance. Where some see a lack of varsity high school experience, she is confident there is ample winter sports aptitude, racing expertise and quality athletes.
"We're really well prepared," she said Thursday afternoon before leading the team on one last training exercise through a swarm of Steamboat Springs Winter Sports Club activity at the base of Howelsen Hill. "The kids have been working really hard, and it's time to go out and race, get something under our belt and see where we are."
Much of that confidence comes from the racers Steamboat will deploy. Perhaps they're high school Nordic novices, but many have experience racing with the Winter Sports Club and still compete with the club's Nordic combined team.
Eva Lambek is the girls team's top returning racer. Jack Burger, meanwhile, is the boys team's most experienced returning skier.
Anderson and Dixson, meanwhile, are new to the sport. Anderson hasn't Nordic skied competitively since she was in sixth grade. Dixson started learning the basics this season when the snow started falling.
But both have competed on the high school's alpine team and are eager to get in to the Nordic mix.
"She picked it up quick," Anderson observed about Dixson. "I had a lot of fun on the alpine team last year when I was a freshman. Then she said she was going to do Nordic to stay in shape. I figured I'd stay in shape, too."
Both also are gunning to keep the Skimeister award in Steamboat hands. The Skimeister award goes to the skier who picks up the most points in Nordic and alpine skiing. Linnea Dixson's older sister, Sarah Dixson, won the award last year. Six Steamboat skiers will vie for the honor this winter.
"Steamboat is pretty much going to dominate the whole podium when it comes to Skimeister," Anderson said.
— To reach Joel Reichenberger, call 871-4253 or e-mail jreichenberger@steamboatpilot.com