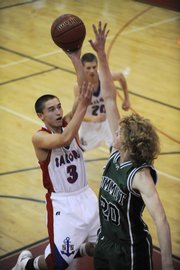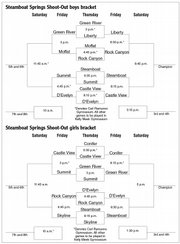 Day 1 results
Girls bracket
Conifer 60, Castle View 22
Green River, Wyo. 57, Summit 26
D'Evelyn 71, Rock Canyon 55
Steamboat Springs 51, Skyline 33
Today's games
(*denotes Carl Ramunno gym. All others in Kelly Meek Gymnasium)
Conifer vs. Green River, 8:15 p.m.*
D'Evelyn vs. Steamboat, 6:30 p.m.
Castle View vs. Summit, 3 p.m.*
Rock Canyon vs. Skyline, 4:45 p.m.
Boys bracket
Liberty 62, Green River, Wyo. 40
Rock Canyon 81, Moffat County 28
Steamboat Springs 57, Summit 16
Castle View 65, D'Evelyn 60
Today's games
Liberty vs. Rock Canyon, 6:30 p.m.*
Steamboat vs. Castle View, 8:15 p.m.
Green River vs. Moffat, 3 p.m.
Summit vs. D'Evelyn, 4:45 p.m.*
Steamboat Springs — The Steamboat Springs High School girls and boys basketball teams had little trouble in the first round of the Steamboat Springs Shoot-Out on Thursday, as each advanced in convincing fashion.
For the boys, that meant a 57-16 drubbing of Summit, and the girls advanced with a 51-33 win against Skyline.
The girls play D'Evelyn at 6:30 p.m. today, and the boys play at 8:15 p.m. against Castle View. Both games are in the Kelly Meek Gymnasium.
In the boys game, there was never a question and rarely a sweat, as the Sailors cruised past the Tigers.
Steamboat jumped out to a 10-0 lead, led 18-4 after one quarter and 27-6 at halftime.
"We knew that this team wasn't going to be one of the best teams in the tournament," said junior forward Randall Nelson, who was part of three Sailors in double figures with 12 points to go along with 11 rebounds. "But that doesn't mean much. You have to keep your intensity up."
Steamboat was solid defensively, holding Summit to 8 of 32 shooting and 26 turnovers. The Tigers never really threatened to make a run, and by the time junior point guard Isiah Mendoza-Forsyth scored seven straight points late in the third quarter, the Sailors had a 44-10 lead with 2 minutes, 21 seconds remaining in the quarter.
Although there were areas Steamboat coach Luke DeWolfe wasn't happy with, it was the Sailors' quick start that made the coach happy.
"That's what we really tried to do," he said. "We talked about doing that early. We talked about getting better and not being satisfied with where we were at. I think we were still pretty sluggish, but it got better in the second half."
Mendoza-Forsyth led all scorers with 15 points. Charles Wood added 13, and Justin Anderson chipped in seven.
In the girls game, Steamboat jumped out to an 11-2 first-quarter lead and led 14-4 at one point before Skyline started to chip away. The Falcons cut the lead to 18-10 at halftime and got it to 22-14 early in the third quarter before Steamboat's Tara Spitellie hit a big 3-pointer to push the led back up to double figures.
It was a reversal of sorts. Last season, Steamboat took multiple leads at half before faltering in the third quarter. Thursday, the third quarter was where the Sailors won the game.
"Seeing what happened last year, we've set our minds to not letting it happen," said Spitellie who had 12 points. "We're going to come out intense and not let it happen."
Steamboat's offense, save for the third quarter, could never really get into a rhythm. The Sailors were in foul trouble all night, but the Falcons couldn't convert from the free throw line.
Skyline shot 9 of 21 from the line, including 4 of 11 in the second quarter. 
"That third quarter was huge," Steamboat coach John Ameen said. "How we played defense and how we settled down our offense, that's the way it needs to be for four quarters."
The Sailors had a 37-20 lead going into the fourth quarter before Skyline cut it to 37-26 with 6:31 remaining in the game.
Spitellie added a bucket, and fellow junior Hannah Moore — who led all scorers with 17 points — went 6 for 6 from the free throw line in the last quarter to seal the victory.
"Going into (today's) game, we want to improve in every facet," Ameen said. "But specifically transition D and closing out on shooters. (D'Evelyn) wants to shoot, and they want to shoot quick."
— To reach Luke Graham, call 871-4229 or e-mail lgraham@steamboatpilot.com