Today's games
■ Girls bracket
Conifer vs. Castle View, 6:30 p.m.*
Green River, Wyo. vs. Summit, 3 p.m.
D'Evelyn vs. Rock Canyon, 4:45 p.m.
Steamboat Springs vs. Skyline, 8:15 p.m.
■ Boys bracket
Green River, Wyo. vs. Liberty, 3 p.m.*
Moffat County vs. Rock Canyon, 4:45 p.m.*
Steamboat Springs vs. Summit, 6:30 p.m.
Castle View vs. D'Evelyn, 8:15 p.m.*
*Denotes Carl Ramunno Gymnasium. Other games to be played in the Kelly Meek Gymnasium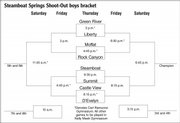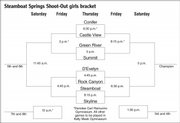 Steamboat Springs — It's still early, but today's opening of the Steamboat Springs Shoot-Out should be the first test for the Steamboat Springs High School boys basketball team.
After walking away with two wins against Class 3A opponents last weekend, Steamboat enters a bracket full of deep Class 4A teams.
Steamboat opens at 6:30 p.m. today against Summit in the Kelly Meek Gymnasium. 
"Oh, I think the main thing is we have to get better," Steamboat coach Luke DeWolfe said. "Especially the defensive aspect of our game. Still, it's just a lot of learning going on. As long as they keep learning and getting better this weekend, I'll be happy."
The Sailors will be without the services of their top scorer from a year ago in senior Jack Spady. Spady hurt his shoulder in the fourth quarter of the state championship football game and could be out till Western Slope League play begins in January. Steamboat also might be without Connor Landusky, who just finished the football season, as well.
Regardless, the tournament should allow for Steamboat to compare itself to similar teams in Class 4A.
In last weekend's tournament, Steamboat was led by the play of guards Isiah Forsyth and Charles Wood.
The two scored at crucial times, propelling the Sailors to a 2-0 start.
"The main goal is to come out on top and win the tournament," Wood said. "But we're missing key players, but hopefully we can come out on top. It was a good learning experience, and now we know what we need to do. I think we'll be better this week."
The key for Steamboat might be getting contributions from its inside players. Although Forsyth and Wood were forces on the perimeter, DeWolfe said the post players have to make an impact for the Sailors to be successful.
"We have to establish our inside game," DeWolfe said. "There is two parts of that. One is the posts have to do a better job of posting up and getting the ball. The other is our wings have to do a better job of getting them the ball."
Steamboat girls look to improve on 2-0 record
At this early juncture in the season, it's expected that teams could struggle on the offensive end of the floor.
Sailors girls basketball coach John Ameen acknowledged this but said that at this point, he's more concerned about the defensive end of the floor when Steamboat opens at 8:15 p.m. today against Skyline. The two teams play in the Kelly Meek Gymnasium.
"We're going to have to D it up," Ameen said. "Definitely, defense has always been a focus. Our offense is coming around, but it's always defense first."
Considering the deep field at the Steamboat Springs Shoot-Out — including Class 4A's No. 5 team in Conifer — Ameen said this weekend should be a great gauge of where the Sailors are in relation to the rest of the state.
Although Skyline brings a young team, it plays in one of the toughest conferences in the state.
Ameen said the goal is always to win but that at this stage of the season, it's more about getting constant improvement each time on the court.
After watching film and having three solid days of practice, Steamboat should enter the tournament poised to play well.
"We're hoping to bring lots of intensity," wing Tara Spitellie said. "We've been working for a while, and our goal is walking into each game ready to win. We just have to execute and do what we practiced — do what we know how to do."