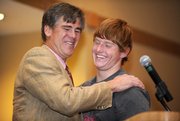 Sailors football awards
■ First-team All Western Slope League
Darian Buelter
Joe Dover
Austin Hinder
Mitch Lekarczyk
Jack Spady
Carl Steele
■ Honorable mention All WSL
Cody Harris
Keenan Starbuck
Jack Verploeg
Michael Savory
■ Western Slope League awards
Dover: Co-Back of the Year
Hinder: Co-Back of the Year
■ Team awards
Most Valuable Player: Dover
Offensive Player of the Year: Hinder
Defensive Player of the Year: Lekarczyk
Lineman of the Year: Steele
Special Teams Player of the Year: Dover
Iron Man Award: Spady
Show Team Player of the Year: Hunter Willis
Steamboat Springs — Although there was still a stinging feeling from dropping the Class 3A state championship game Saturday, and rightfully so, the Steamboat Springs High School football team celebrated its season Tuesday with a season-ending banquet.
Ten Sailors were named to the Western Slope All-League team, and two split the League's Co-Back of the Year award.
Earning first team for Steam­boat were Darian Buelter, Joe Dover, Austin Hinder, Mitch Le­­k­­arczyk, Jack Spady and Carl Steele.
Cody Harris, Keenan Star­buck, Jack Verploeg and Mich­ael Savory earned honorable mentions.
Dover and Hinder shared the league's Back of the Year award.
"As we talked about it, all individual awards are team awards," Steamboat coach Aaron Finch said. "Individuals can only perform as well as those around them."
By earning Back of the Year awards, Hinder and Dover also will be eligible to play in the All State game at the end of the school year at the University of Northern Colorado in Greeley.
Hinder said he would opt out of the game because he plans to enroll at the University of California, Berkeley, right after graduation. Dover said by then he hopes to have decided where he'll play in college and said that right now he doesn't plan to play in the game.
Other coaches in the league voted on the Back of the Year award. After discussing which player was more deserving, the coaches decided to split the award.
"We came in as a senior class knowing we could do something special," said Dover, adding that he is just starting his recruiting process. "We performed, and you could tell by a 13-1 record. It's not just one person, either. It was awesome. Everybody played their best."
The team also gave away team awards. Dover (Most Valuable Player and Special Teams Player of the Year), Hinder (Offensive Player of the Year), Lekarczyk (Defensive Player of the Year), Steele (Lineman of the Year), Spady (Iron Man Award) and Hunter Willis (Show Team Player of the Year) were recognized.
Although the season didn't end as the Sailors wanted it to, Finch highlighted just how tough and special it is to get to where Steamboat did this season.
The Sailors wrapped up the year 13-1, including winning the league title and advancing to the state championship game for the first time since 1979.
"It's a first for me at any level as a player or coach," Finch said about going undefeated in the regular season. "There are so many games along the way where you face a good team. Everybody pointed to us as the team to beat in the league, so every week, we got every team's best shot."
As one final thing, the team will be featured in Saturday's Merry Mainstreet holiday parade. The event begins at 4 p.m. in downtown Steamboat Springs.