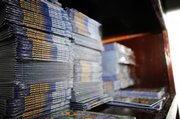 If you go
What: Parenting & Pizza event, "Happy Families: Handling Holiday Stress," with Kristen Race
When: 6 to 7:30 p.m. Thursday, child care drop-off at 5:30 p.m.
Where: Bud Werner Memorial Library
Call: First Impressions of Routt County at 870-5270 to RSVP.
TV18
See Smart Dreamzzz co-owner Kristen Race at about 8:20 a.m. Monday on the "Steamboat Today" morning show on Steamboat TV18.
Learn more
Get parenting tips, product information and more on the Web at www.smartdreamzzz.... Animal Dreamzzz CDs are sold at Epilogue Book Co., Off the Beaten Path Bookstore, All That Jazz, Little Moon Essentials, Rocky Mountain Day Spa and Duck Duck Goose.
Parenting class
First Impressions of Routt County is offering its next parenting class from Jan. 11 to Feb. 9. The class meets for two hours each Monday and costs $50 per family, which includes nightly dinner and child care. Scholarships are available. The class focuses on families with children 8 years old and younger.
First Impressions program coordinator Stephanie Martin said fliers about the class would be available this week at locations including Bud Werner Memorial Library, local doctors' offices and child care programs. Call First Impressions at 870-5270.
Steamboat Springs — Kristen Race had a breakthrough one night about six months ago while putting her children to bed.
After struggling with issues familiar to many parents of young children — kids too energetic at bedtime or kids restless, stressed or scared after settling into bed — she decided to try different methods of helping her children fall asleep.
Race applied techniques that she had learned in yoga and meditation classes, such as getting her children to focus on their breathing, speaking softly and encouraging them to relax their muscles.
It worked so well that when her husband — Steamboat Springs City Council member Kenny Reisman — came home that night, Race said, she raised her arms in triumph.
The result is Smart Dreamzzz, a business that provides tools to help children fall asleep and stay asleep, relaxed and happy. The business's first product, a CD called Animal Dreamzzz, contains three 15-minute stories — about a cuddly bear, a lovable giraffe and a baby elephant — that ease a child to sleep through the eyes of the animal, along with soft music and sounds of nature.
"Our mission is to help families with one of their biggest battles and stress points — the bedtime battle," Race said Thursday in the Smart Dreamzzz office she shares with Reisman in Colorado Mountain College's Bogue Hall. Reisman handles marketing for the business. The couple is selling Animal Dreamzzz CDs in six local stores and also has them available for purchase and download for $16.95 on the Web at www.smartdreamzzz.com.
"Which is nice because people who can't get their kids to sleep want to do it now," Race said about the download option.
Race has an extensive education in parent-child relationships.
She has a doctorate in child, family and school psychology from the University of Denver, where she also earned a master's degree in education psychology.
She is a member of the executive committee of First Impressions of Routt County, through which she teaches a Partners in Parenting course; and she teaches social and emotional development skills to children in local preschools.
"First Impressions as a whole has really benefited from Kristen's expertise. We're really lucky to have her in the community," said Stephanie Martin, program coordinator for First Impressions. "I've received a lot of great feedback from families and child care providers who are using her Animal Dreamzzz, on how well it's helping with their own children — and child care programs are using it for nap time."
Race said teaching parenting classes for the past five years taught her that bedtime battles are common.
"About three-quarters of parents are struggling with this," she said.
Starting Smart Dreamzzz cost about $6,000 to $7,000, Race said, and included a huge amount of local help. The SCORE business incubation program at CMC provided invaluable information, she said, and Greg Effinger, of Creative Bearings, designed the Web site and CD artwork.Steve Boynton plays music in the stories, and Laura Lamun, of Little Moon Essentials, provides the animal voices.
"She's got such a fairy tale kind of voice," Race said about Lamun. "She did a great job."
Race was quick to clarify that Animal Dreamzzz should not take the place of bedtime stories or of time spent with children while preparing for bed.
"I definitely feel strongly about this not replacing a healthy bedtime routine," Race said.
Race said at her house, with 6-year-old Macy and 4-year-old Charlie, the CDs now are one part of the bedtime routine.
"Charlie wants to listen to the bear every night," Race said.
Macy likes to hear all three animals, Race said — and often comes up with new ideas for CDs.
Race said new ideas are in the works. She and Reisman are working to expand the sales of Animal Dreamzzz and to create new CDs with themes such as outer space, dinosaurs, sports and beaches.
The CDs haven't been a cure-all in her house, Race said, but they definitely have changed how her children sleep.
"The battles are much better," she said. "For the most part, it's night and day."