Photo Gallery
Sailors send-off, Dec. 4, 2009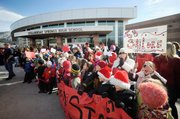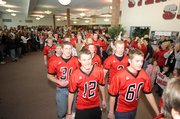 Online
Can't make it to Aurora for today's state championship game between Steamboat Springs and Valor Christian? That's OK. The Steamboat Pilot & Today will bring the game to you. Log on to www.steamboatpilot.com at 2:30 p.m. today for a live video stream of the game. You also can follow @steamboatpilot on Twitter for live scoring updates throughout today's contest.
Ski Town USA felt less like an international resort and more like any other Western small town Friday as scores of cheering football fans turned out in frigid temperatures to give the Steamboat Springs High School Sailors a rousing send-off on their way to today's Class 3A championship game in Aurora.
"It was great to see everyone come out and send these kids off," Shauna Watterson said. "It's not just Olympic athletes; we cheer for all these kids."
The emotional atmosphere was raised by dozens of elementary school students who waved hand-lettered placards and chanted, "Sailors, Sailors, Sailors!"
Cindy Gantick's son, Jasper, graduated from the football program last year, but the habit is hard to give up, and she stood on the curb to cheer Carl Steele, Keenan Starbuck and Bryce Mayo, whom she taught in fifth grade at Soda Creek Elementary School. Cindy Gantick vouched for her former students' ability to take an intellectual approach to studying their opponents' tendencies on the gridiron.
Chip Coe, whose son Jack­son is a junior running back and defensive back on the squad, said he wasn't feeling tense about the title game.
"I just love that he's running around out there," Chip Coe said. "We grew up with all these kids. I coached half these kids in basketball in eighth grade."
Jack Fox, 4, may need a souvenir T-shirt if he's to someday recall the day he saw the Sailors off on their quest for a state championship. His mother, Randi, said young Jack asked her to stop the car when he spied other preschool-age children trooping by the celebration.
Grant Birkinbine, 12, was there specifically to support a family friend, wide receiver Jack Verploeg (No. 8 in your programs). Grant also is proud of his father, Joe, who flew the radio announcing crew to a couple of games this fall in a private aircraft.
This year's Sailors squad, the first to make it to the championship game since the 1979 team defeated Buena Vista for the state title, has captured the imagination of people without any direct connection to the team or the school.
Steamboat Ski Patrol Supervisor Du­n­can Draper became intrigued with the football squad after watching it vanquish an opponent in November.
"I went to a game with some friends, and they were totally awesome," Draper said. "I was asking, 'Why aren't there 5,000 people here?'"
The football players weren't the only squad boarding a bus to go to the big game Friday. The Sailors cheerleaders had a bus of their own and will compete at state this evening in Denver.
Mark Fischer was excited to be on hand and watch his cheerleader daughter, Catherine Fischer, take part in the celebration.
"It's real pure, innocent fun, and it's fun to win!" Fischer said.
The Sailors football team had a good omen as they boarded the Colorado Charters bus at midday Friday for the trip to Aurora and today's showdown with the Valor Christian Eagles. Todd Newsome, the same driver who ferried them to and from their semifinal win against Pueblo Central, was back behind the wheel.
Newsome didn't have a game day prediction, but he had kind words for the boys from Steamboat Springs.
"They seem like pretty good, respectful kids," Newsome said.