If you go
What: No. 4 Steamboat vs. No. 2 Valor Christian, Class 3A state championship
When: 2:30 p.m. Saturday
Where: Legacy Field in Aurora
Tickets: Adults, $8; Students and senior citizens, $6. Tickets can be purchased at the stadium, or in advance by visiting www.chssa.org and clicking on the "State Championship Tickets" on the left side of the page.
Getting there: From Steamboat, take U.S. Highway 40 east to Kremmling. In Kremmling, turn south onto Colorado Highway 9 to Silverthorne. Head east on Interstate 70 to Denver, and take exit 261 for West 6th Avenue. After about nine miles, exit onto southbound I-25 toward Colorado Springs. Then merge onto E-470 toward Limon, drive 10 miles, and take exit 10 onto East Smoky Hill Road. After about two miles, turn left onto East Arapahoe Road. Legacy Stadium will be on your left. The total trip from Steamboat should take about 3 1/2 hours in good driving conditions.
Sailors send-off set for today
A community send-off for the Steamboat Springs High School football and cheerleading teams is at 12:15 p.m. Friday along Maple and Third streets in downtown Steamboat. Both teams are headed off to state.
The football team vies for the Class 3A state championship at 2:30 p.m. Saturday against Valor Christian at Legacy Stadium in Aurora. The cheerleaders compete at 6:08 p.m. Saturday at the Denver Coliseum.
For the send-off, fans are asked to line Maple and Third Streets near the high school to show their support. The teams will leave at 12:15 p.m. today. People should start lining up by noon.
According to high school Athletic Director Luke DeWolfe, fans attending Saturday's football game are only allowed to bring professionally done banners and signs. No noisemakers are allowed inside the stadium.
3 key questions
Which of Class 3A's best quarterbacks will have the best game?
Steamboat's Austin Hinder and Valor's Brock Berglund are the two best quarterbacks in the classification and two of the top signal-callers in the state, regardless of school size. Berglund has combined for 39 touchdowns on the season, while Hinder has accounted for 37. The game might well come down to which quarterback more efficiently limits his turnovers.
Speaking of turnovers, which team wins the turnover battle?
Valor has created 16 more turnovers than it has given up. Steamboat is plus-26 in turnovers. A game of this magnitude could very well come down to who wins the turnover battle. So far this season, Steamboat hasn't played a game in which it has lost the turnover battle.
Does Steamboat or Valor do a better job of embracing the big game?
Each team certainly has played — and won — big games during the season. For Valor, it was two matchups with D'Evelyn and its trek through the playoffs. Steamboat beat Palisade and Glenwood on its way to a league title before dominating in the first three rounds of the playoffs. Which team handles the bright lights better? Steamboat is more experienced, but Valor's coaching staff has coached on the biggest prep football stage.
Photo Gallery
Sailors headed for state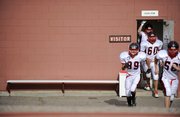 The Steamboat Springs High School football team defeated Pueblo Central on Saturday and will play in the state championship game.
In a roundabout way, Steamboat Springs High School Principal Kevin Taulman was able Tuesday to bring the full spectrum of the football team's season into perspective.
Taulman put into words what Saturday's state championship really means to the team.
"And I had never thought of it this way," Steamboat coach Aaron Finch said. "It's a week of lasts, and you know it. Last week, Pueblo Central didn't know it was their last Tuesday of practices. It is a week of lasts, and we know it going in."
That's the thing.
When Valor Christian and Steamboat meet at 2:30 p.m. Saturday at Legacy Stadium in Aurora for the Class 3A state championship, it will be a last.
Valor, still in its infancy after opening in 2007, has only eight seniors on a team that's made a statement in just its second year of varsity football.
For Steamboat, there are 15 seniors, and most have played together since middle school.
Either way, Satur­day's game will have a lasting effect on each team.
"We've worked hard," Finch said. "We've earned the right to be state champs, no doubt in my mind. But Valor has, as well. It's going to come down to who can get the ball in the end zone more. I'm not sure if fate or destiny has anything to do with that."
In the simplest terms, it's the two best teams, with the two best quarterbacks in Class 3A, squaring off.
For the Eagles, it starts and ends with junior quarterback Brock Berglund. The 6-foot-3-inch gunslinger has had the type of effect on Valor that Steamboat quarterback Austin Hinder has had on Steamboat.
Berglund has thrown for 2,027 yards to go along with 26 touchdowns and just four interceptions. He's also run the ball for 842 yards and 13 touchdowns.
"He possesses a really outstanding ability both passing and running," said Rod Sherman, Valor's offensive coordinator and athletic director. "I don't know if he's Hinder. Hinder happens every five or 10 years in Colorado. But he's been able to execute and hold on to and protect the football."
Sherman and head coach Brent Vieselmeyer aren't foreign to big games. The two coached at Orange Lutheran in California before coming to Colorado. In 2006, their last season at Orange Lutheran, the two were part of a program that finished No. 1 in California and No. 7 in the nation.
Each conceded this week that he really had no interest in leaving Orange Lutheran. But each found solace and a vision he liked at Valor.
"It's not like we don't want to win," Vieselmeyer said. "I just think we're keeping that in line with our goals of what we're trying to do. It's, 'Let's control the variables we can control.' Whether it was this or that, our kids did a great job in the offseason."
Valor finished the 2008 season 4-6 in its first year of varsity football. But with a year of experience, the Eagles tore through the Metro League and playoffs in 2009.
The Eagles average 38 points a game and give up just 11. They've gained 2,000 yards more than their opponents.
"Valor, they deserve to be 13-0, and they deserve to be in the state championship game," Finch said. "They are a good team. You go through a real bunch of teams that are one-dimensional teams. Now we're facing a team that has a bunch of offensive capabilities and can run on defense."
Saturday's game is a matchup of two similar teams. The offenses are explosive, and the defenses are more than capable of dominating games.
So what does this, the last game of the season, come down to?
"Turnovers," Finch said. "Absolutely turnovers. That's the girl that we brought to this dance. We've won the turnover ratio in every game. It's really hard for them to catch up and get back into the game and all through the playoffs. Taking care of the football, we've done a really solid job this year."
Valor comes into the game with a plus-16 turnover ratio, and Steamboat's at an unheard-of plus-26.
"It's not stopping Steamboat as just kind of trying to control the guys," Vieselmeyer said. "It's not letting quick strikes go. It's making them earn it. It's how well our offense does against their aggressive defense. We've got to slow them down a little bit."
On Saturday, it's Valor, a team that will move to Class 4A next season and looks like it will be a staple of athletic excellence for years to come, against Steamboat, a team of undersized guys who have played together since they split up teams at recess.
"I guess you make your own destiny," Finch said. "This group has worked really hard, and it's been all hard work. This group comes to practice every day. It's continuous improvement. You don't have to become state guys in one practice. But you do work hard, and you do work to get a little bit better every day."
The better team will be revealed Saturday.