If you go
What: Meeting of Ignite Steamboat, a social-networking group for entrepreneurs and technology professionals
When: 6 to 9 p.m. today
Where: Rex's American Grill & Bar, adjoining the Holiday Inn
Online: Visit www.ignitetheboat.com to learn more about or join the group.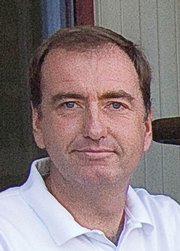 Steamboat Springs — Jens Owen had no idea how many people like him there were in the valley until last summer.
Noreen Moore began hosting gatherings of people who work locally for companies outside of Routt County, or for themselves, often in the technology industry. Moore is business resource director for the Routt County Economic Development Cooperative, which has conducted a survey showing that there are about 400 "location-neutral" workers in the Yampa Valley. Bringing those people together can be a challenge, but efforts to do so are increasing through a networking group called Ignite Steam­­boat.
The group meets from 6 to 9 p.m. today at Rex's American Grill & Bar, adjoining the Holiday Inn.
"There's a lot of people up here who work out of their homes and do software development and other types of tech jobs," Owen said. "You don't know that they do tech jobs when they're walking down the street and they're just another local."
Owen, the owner of a technology incubator called Storm Peak Innovations, said Wednes­day that he was surprised to learn how many of those locals are in the same 'Boat.
"I didn't know there were that many," Owen said. "My goal is to try to get more face-to-face (interaction) and group collaboration going up here in Steamboat."
Owen; Moore; consultant Chad James; Jay O'Hare, owner of the marketing consultant firm Altera Performance Group; and others are working to meet that goal through Ignite Steamboat. The social-networking group for entrepreneurs and technology professionals has met monthly since June and has grown to about 75 members. Owen said the Ignite format has "gone global" in recent years and centers on quick presentations from members.
"It's really a way to at least create a watering hole for people who are working differently," Moore said. "The presentations are very rarely about tech — they are about whatever the person wants to do, as long as it's not a sales pitch."
Owen said a meeting typically includes six to eight presentations. Presenters are allowed 20 slides that automatically advance every 15 seconds for a total presentation time of five minutes, he said.
Owen said Ignite presentations are given with a mind-set of "enlighten us, but be quick about it."
Owen said presentations have included Old Town Pub owner Lizzie Larock explaining how she got into Twitter and a Hewlett-Packard executive talking about how he was able to "sever the cord" of corporate life and work remotely.
Networking and communication soon will become vital to Owen's business — Storm Peak Innovations begins its first 10-week session Jan. 4 to immerse entrepreneurs in how to start a technology business. Storm Peak Innovations will keep a small equity in businesses it helps launch, Owen said.
A grand opening is at 3 p.m. Friday at Storm Peak Innovations, in The Victoria building at 10th Street and Lincoln Avenue.