If you go
What: "Season of Hope," featuring photography by Kim Keith, oil paintings by Susan Gill Jackson and sculptures by Leo Atkinson; part of First Friday Artwalk
When: Opening reception from 5 to 8 p.m. Friday
Where: Artists' Gallery of Steamboat, 1009 Lincoln Ave.
Cost: Free
Call: 879-4744
Photo Gallery
December First Friday Artwalk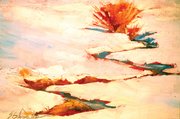 Steamboat Springs — Painter Susan Gill Jackson imagines Steamboat in a calmer time.
In her oil paintings looking out the back alleys around Artists' Gallery of Steamboat between 10th and 11th streets downtown, Jackson catches early winter morning light and paints deer and elk into the scenery.
It's "Steamboat on a quiet day in the past, or when someone's not looking, anyway," Jackson said about part of the collection of paintings she'll have featured in "Season of Hope" at Artists' Gallery of Steamboat. The show opens with a free reception from 5 to 8 p.m. Friday as part of First Friday Artwalk.
Photographer Kim Keith also is featured at Artists' Gallery this month. Keith has been adding to her collection of detailed butterfly photos for the past year or so. She's built off an original photo shoot for a friend in The Butterfly Pavilion in Westminster with shots from a June trip to Honduras and a return trip to The Butterfly Pavilion.
"It gives me this real lightness. You can go to The Butterfly Pavilion and hear children giggling all over the place, and I love that," Keith said. A book of butterflies is in its initial planning stages.
Leo Atkinson's large, gem-based sculptures fill the center of the gallery's front room this month. There are several large-scale pieces, including a new one featuring two chunks of coral from the Withlacoochee River in the Southeastern United States.
Atkinson is out of town this week, working to set up a new business venture in China "in hopes of creating a design group that will export exotic minerals all over the world for both artistic as well as commercial use," said Dusty Atkinson, Leo's son, who will fill in for him at art events while he travels.
A portion of the sales proceeds from Artists' Gallery's featured artists this month will go to the Village of Hope in Burkina Faso, Africa.
"Season of Hope" is one of 24 art shows opening Friday for the December First Friday Artwalk. The collection of downtown Steamboat Springs galleries, restaurants, retailers and other outlets is the largest to be involved in Artwalk's two years of providing free, open receptions featuring fresh art in downtown Steamboat.
Read more about Artwalk's new venues — which include Azteca Taqueria, Chocolate Soup Pastry Café downtown, The Epicurean Café and Storm Peak Innovations — and see a full listing of participating galleries in Friday's Explore Steamboat arts and entertainment guide.