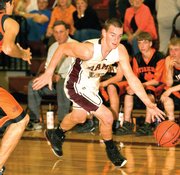 Tuesday marked the start of a new season for two area basketball teams as the Hayden Tigers and Soroco Rams faced off in a cross-county showdown in the season opener.
"I love to play Hayden," Soroco senior Cody Miles said after his 18-point performance. "I don't care if it's the first game of the season; they are a very good team, and it's always a good game."
Despite a little early season rust on both sides of the court, the boys' opener turned out to be a pretty good start as both teams left the court with high expectations for the season.
The Tigers took control of the game early but never were really able to run away with it en route to a 46-37 win.
"I thought we moved the ball well tonight," Hayden junior Ben Williams said. "I thought we played well tonight, but there is always room for improvement."
Williams led the Tigers in scoring. The Tigers also got 11 points from Rene Valdez and nine from Graig Medvesk.
"I was pleased that our guys came out and gave 100 percent effort on the floor," Hayden coach Mike Luppes said. "That's what I was hoping for, and that's what I would like to see from this team every game this season. We still need to work on our consistency, but this was a good start for us."
The Rams, who lost most of last year's starting rotation to graduation, returned to the court with a young team that coach Sam McLeod said he thought showed a lot of promise.
"I felt like we executed our offense well in this game. We could have finished a little better, but I was pretty pleased with the way things went," the coach said.
Miles led the team with 18 points. Alex Estes had seven, Michael Rossi had six and David Strait finished with two.
"There are a lot of new faces on this team," McLeod said. "Outside of Cody and Alex, most of these players have not played a varsity game."
The Rams also were without veteran Matt Watwood, who is expected back next week after an injury he suffered playing football in the fall.
Hayden took a 13-9 lead in the first quarter, but the Rams made a run midway though the second when Strait's jumper tied the game at 15.
The Tigers regrouped and took a 24-20 lead into the half, and they maintained the lead through the third quarter. Down the stretch, the Rams elected to go to the outside rather that test the Tigers defense inside. The team was hoping to get hot from beyond the three-point line but couldn't quite find the mark.
The Rams will have a chance to rebound Friday when they open a tournament in West Grand. The Tigers will be off until Dec. 10, when they travel to Meeker for a tournament.