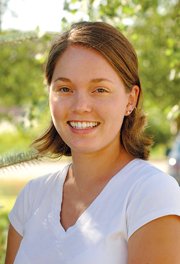 Nicole Miller's stats
Bib: No. 84
Place: 407
Time: 03:33:39
Swim: 57:33
Transition 1: 06:44
Bike: 01:34:26
Transition 2: 02:51
Run: 52:02
Sex place: 191
Swim rank: 405
Bike Rank: 403
MPH: 12.7
Run rank: 393
Mile pace: 13:00
Steamboat Springs — This isn't the kind of thing I do.
Things that happen before noon. Things that involve bike shorts. Things I won't win.
I'm a 24-year-old copy editor, and I'm deep in the throes of a quarter-life crisis. My older brother was having a baby with his wife of two years. My younger brother was buying a condo with his girlfriend. And I was newly single and lamenting the death of my ambition.
That was less than two months ago.
I didn't know much about triathlons. I knew they involved three sports, none of which I was particularly skilled at. And I knew my competitors would be serious. I also knew that I would not.
It was seven weeks till race day when I surveyed my situation. I hadn't swam a lap since middle school, I hadn't run a mile since high school, and I hadn't ridden a bike since college. This wasn't a promising start. I had to get serious - sort of - and fast.
I needed a bike, so I headed to Ski Haus and spent a lot of money on something I knew nothing about. Buying a bike is like buying a car; you care more about the color than the disk brakes the salesman is telling you about, but you'd never admit it. My Rockhopper and I have been rippin' it up on the Core Trail ever since.
I wish I could say I had a training schedule - or that I had followed even one piece of advice I'd read on hundreds of Web sites - but my training was spotty at best. I slept till 2 p.m. (I work nights), walked most of my run, did 4 1/2 pushups and took a lunch break.
If there was one thing I had, it was plenty of people to say, "I told you so" if I didn't finish. My friends didn't think I could do it. "Riding your bike to happy hour doesn't count as training," they would say. Even my mother didn't think I could do it. But like most things in my life, I was overconfident and underprepared.
Two weeks before the race, it occurred to me that I might actually be able to do this thing, so I invited everyone I knew to come cheer me across the finish line - or to help search for my body in Lake Catamount if things headed south.
I'd been warned about the weeds in the lake. There's nothing that can make you panic at the beginning of a three-quarter-mile swim quite like living organisms grabbing at your limbs. If you've never swam in a 68-degree lake at 8 a.m. with hundreds of people splashing around on either side of you, it's not a comforting experience.
An hour later, I stumbled out of the lake ahead of about five other people. "At least I'm not last," I thought. One of the most important triathlon tips is to set a realistic goal - one you think you can achieve. My goal was to not finish last.
Heading into the transition area, my bike was easy to find, surrounded by empty bike racks. By the time I made it the 10 miles to the halfway point at Howelsen Hill, the Steamboat Springs Winter Sports Club - whose members had cheered on athletes at that location - already had packed up and gone home. I was the second-to-last athlete on the bike course.
The news was even worse when I started my 4-mile run. I was dead last. The awards ceremony already was under way as I headed out for my final phase. If there was anything more discouraging than that, it was the race crew picking up each traffic cone as I passed. The lone cup of water at each aid station was a constant reminder of my standing.
As soon as I crossed the finish line - in 407th place after 3 hours, 33 minutes and 39 seconds - crews broke down the finish gate and packed up.
It could have been worse. The woman who finished last in 2008 was immediately taken to the hospital. She was back this year, and yes, there will be a next year for me, too. My revised game plan involves a road bike, a training schedule and a little more dedication.
It's good to have a goal - makes me feel like maybe I'm accomplishing something. Ski season is just around the corner. Maybe I'll learn how to do a "dinner roll." Is my man Jonny Moseley in the house?
* Triathlons are not easy
- To reach Nicole Miller, call 871-4246 or e-mail nmiller@steamboatpilot.com