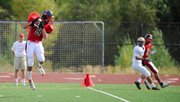 Game statistics
Holy Family, Steamboat Springs
16, First Downs, 14
34-108, Rushes-Yards, 13-75
12-22-3, Comp-Att-Int, 20-29-1
174, Yards Passing, 326
282, Total Yards, 402
3-37, Punts-Avg., 2-32
1-0, Fumbles-lost, 0-0
11-95, Penalties-Yards, 7-55
SCORE BY QUARTERS
Holy Family, 07-00-00-14-21
Steamboat, 07-14-07-13-41
SCORING SUMMARY
First Quarter
SS - 7:25, Austin Hinder 59 run. (Peter Schuette kick).
HF - 2:34, Bryan Murphy 14 pass from Joe Sommers. (Jonathon Gerry kick).
Second Quarter
SS - 5:14, Jack Spady 31 pass from Hinder. (Schuette kick).
SS - 2:10, Dylan Pivarnik 66 pass from Hinder. (Schuette kick).
Third Quarter
SS - 2:25, Pivarnik 2 pass from Hinder. (kick fail).
Fourth Quarter
HF - 9:49, Jeremiah Haynes 5 pass from Sommers. (Gerry kick).
SS - 6:14, Verploeg 12 pass from Hinder. (Spady run).
SS - 2:32, Spady 55 pass from Hinder. (Kick fail).
HF - 0:27, Murphy 24 pass from Sommers. (Gerry kick).
INDIVIDUAL STATISTICS
Rushing
HF Nick Welder 6-16; Duncan Yost 15-80; Joe Sommers 6-4; Jonathon Gerry 5-9; Thomas Lambert 2-(-1)
SS: Connor Landusky 5-12; Austin Hinder 4-57, 1 TD; Dylan Pivarnik 3-7; Jake Miller 1-(-1).
Passing
HF Sommers 12-22-3, 174 yards, 3 TD.
SS: Hinder 20-29-1, 326 yards, 5 TD.
Receiving
HF: Colin Wetmore 1-14; Ryan Silva 1-8; Bryan Murphy 4-64, 2 TD; Welder 1-12; Jeremiah Haynes 4-63, 1 TD; Andrew Melcher 1-6; King Medlin 1-31.
SS: Jack Verploeg 6-47, 1 TD; Jack Spady 7-165, 2 TD; Cody Harris 3-17; Pivarnik 2-68, 2 TD; Bryce Mayo 1-11; Landusky 1-12.
The debate is over. Austin Hinder is the real deal.
The Steamboat Springs High School senior proved every bit the best prep quarterback in the state - and why most have put him among the elite in the country - during Saturday's 41-21 home-opening win against Holy Family.
The University of California-Berkeley commit and three-year starter threw five touchdowns, ran for another and had 383 total yards of offense.
Hinder finished the day 20 of 29 passing for 326 yards and five touchdowns, against one interception. He also carried the ball four times for 57 yards and one touchdown.
"He'll take advantage of what defenses give him," Steamboat coach Aaron Finch said. "If you let him out of the pocket, he's gone. If you give him time to throw, he'll find something. The great thing, though, is the receivers he has to throw to."
With Steamboat's weapons, Saturday turned into Christmas morning each time Hinder took the snap. Although he was without top threat Joe Dover, who sat out for precautionary reasons, the Sailors proved they're more than just a single-barreled shotgun.
Seniors Jack Spady and Dylan Pivarnik each hauled in two touchdown passes, and Jack Verploeg had one.
Spady was especially impressive, grabbing seven balls for 165 yards, including a one-handed grab in the third quarter along the sidelines
that brought a gasp from just about everyone in attendance at Gardner Field.
"We know our strength is in our passing because we have great receivers and a great quarterback on top of that," said Spady, who also led the defense with two interceptions from his free safety position. "And when our line plays like that, we're tough to beat."
With the running game struggling, save for a Hinder 59-yard scramble to open up the scoring in the first quarter, Steamboat relied heavily on its short and intermediate passing game.
After Hinder's run gave Steamboat a 7-0 lead, Holy Family's Joe Sommers hit Bryan Murphy on a 14-yard touchdown pass on the next Tigers drive to knot the score at 7.
Hinder then hooked up with Spady on a 31-yard touchdown pass and Dylan Pivarnik from 66 yards out to give Steamboat a 21-7 halftime lead.
Hinder found Pivarnik again early in the third quarter, this time from 2 yards out to push the score to 28-7.
Sommers capped a long drive by finding Jeremiah Haynes on a 12-yard touchdown pass early in the fourth quarter to cut the lead to 28-14.
But Hinder kept firing. The senior connected with Jack Verploeg on a 12-yard pass and then with Spady from 55 yards out to push the Sailors' lead to 41-14.
Sommers hit Murphy again with 27 seconds remaining, this time from 28 yards out, to make the final score 41-21.
"It's knowing the offense and preparing," Hinder said about his career day. "Probably 80 percent of the game is preparing and 20 percent is showing up and doing what you do. This whole week I've been visualizing. (Friday) night I stayed up and visualized everything from the first read to the second read. It's great to come out and do what we did."
While the offense will get the headlines, Steamboat's defense was equally impressive. Led by senior linebacker Mitch Lekarczyk, the Sailors limited Holy Family to 282 yards of total offense and created three turnovers. The Sailors gave up only 3.1 yards per carry on the ground.
"I'm very happy with the defense," Finch said.
Now Steamboat has a week off to heal before the team opens up its Western Slope League schedule. The team next plays a 7 p.m. Sept. 11 game at Delta.